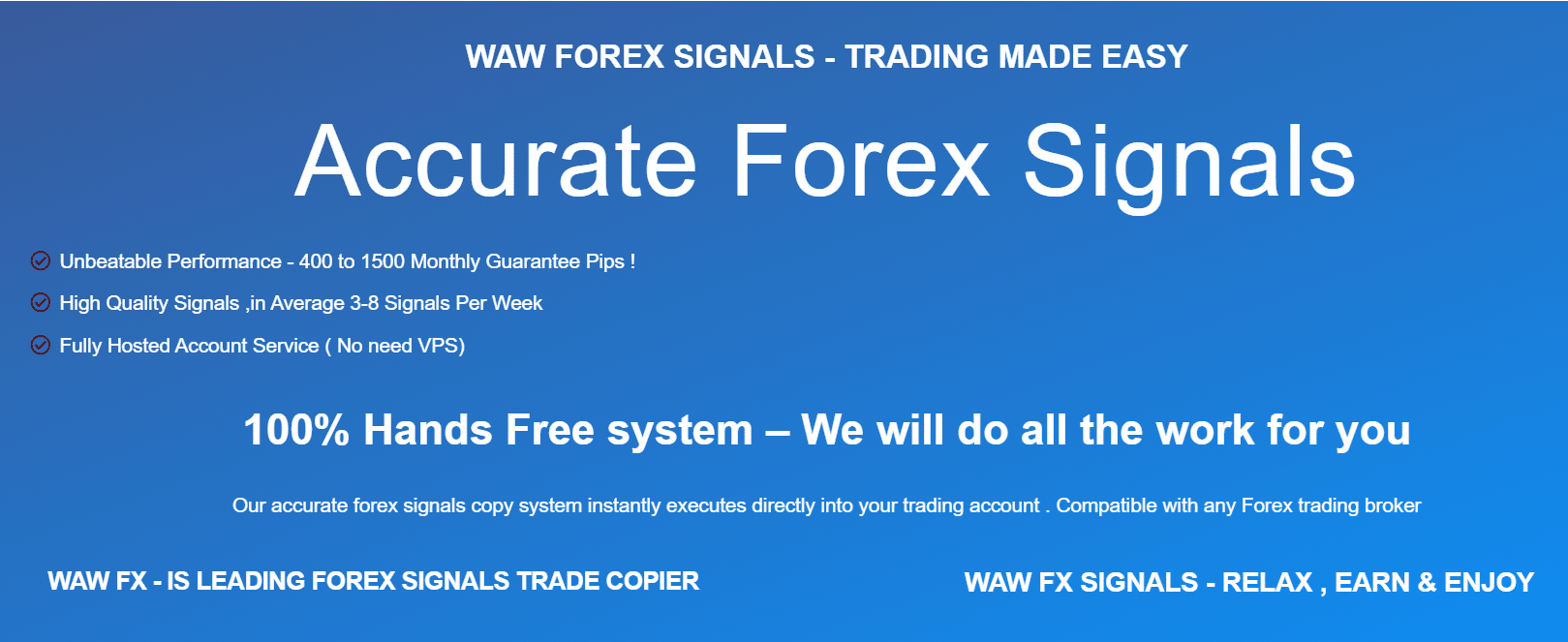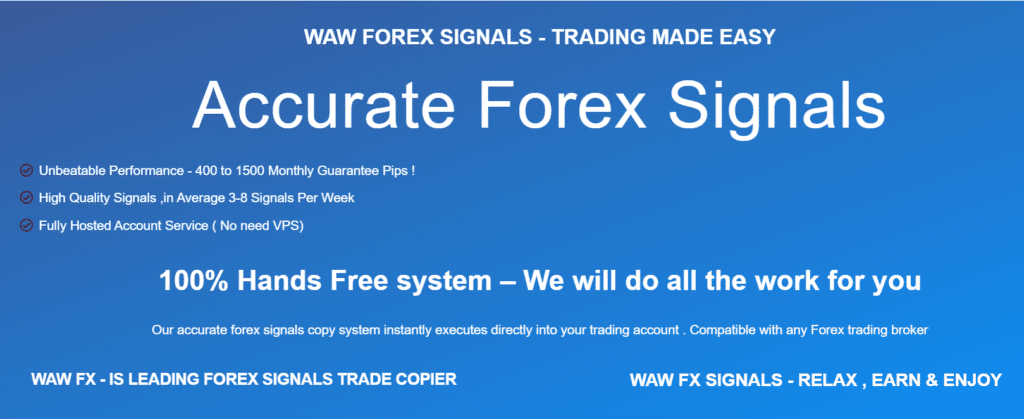 The developers mentioned that Waw Forex Signals are accurate and they can make trading easier for us. They promise up to 1500 pips per month and 3-8 signals a week. Can we trust their claims? Is it a good investment solution for traders? Read Waw Forex Signals review to find out the answers.
Can we be sure it's not a scam?
We don't think so. The presentation looks like a scam because there's no information about trading results or gained pips.
How to start trading with Waw Forex Signals
We've grouped up the service features:


We can get from 400 to 1500 pips monthly.
The signal frequency is impossibly low – 3-8 signals weekly.
The company can host us, so there's no need for VPS.
We can copy their trade from the master account to ours.
The signals are managed manually and created by analysts.
There's an experienced team behind the company. Of course, it's a lie because experienced teams have analysts. Those professionals write many articles with trading ideas. Any company that has analysts on the board can publish 2-4 articles daily about market conditions and trading opportunities. The content attracts traders to the site, forces them to subscribe for updates on Telegram, and so on. So, when a company says something like we've got the best and the most experienced team in the world and provides no proof – it's a lie.
The signals are both: Long and Short terms.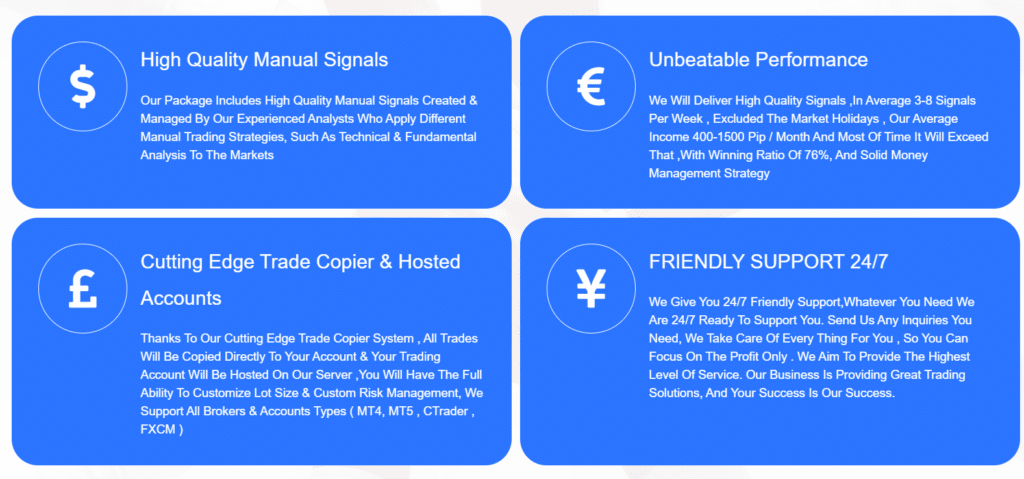 Fundamental and Technical indicators are used to create the most relevant signals.
Win-rate is 76%.
The company provides 24/7 welcome support.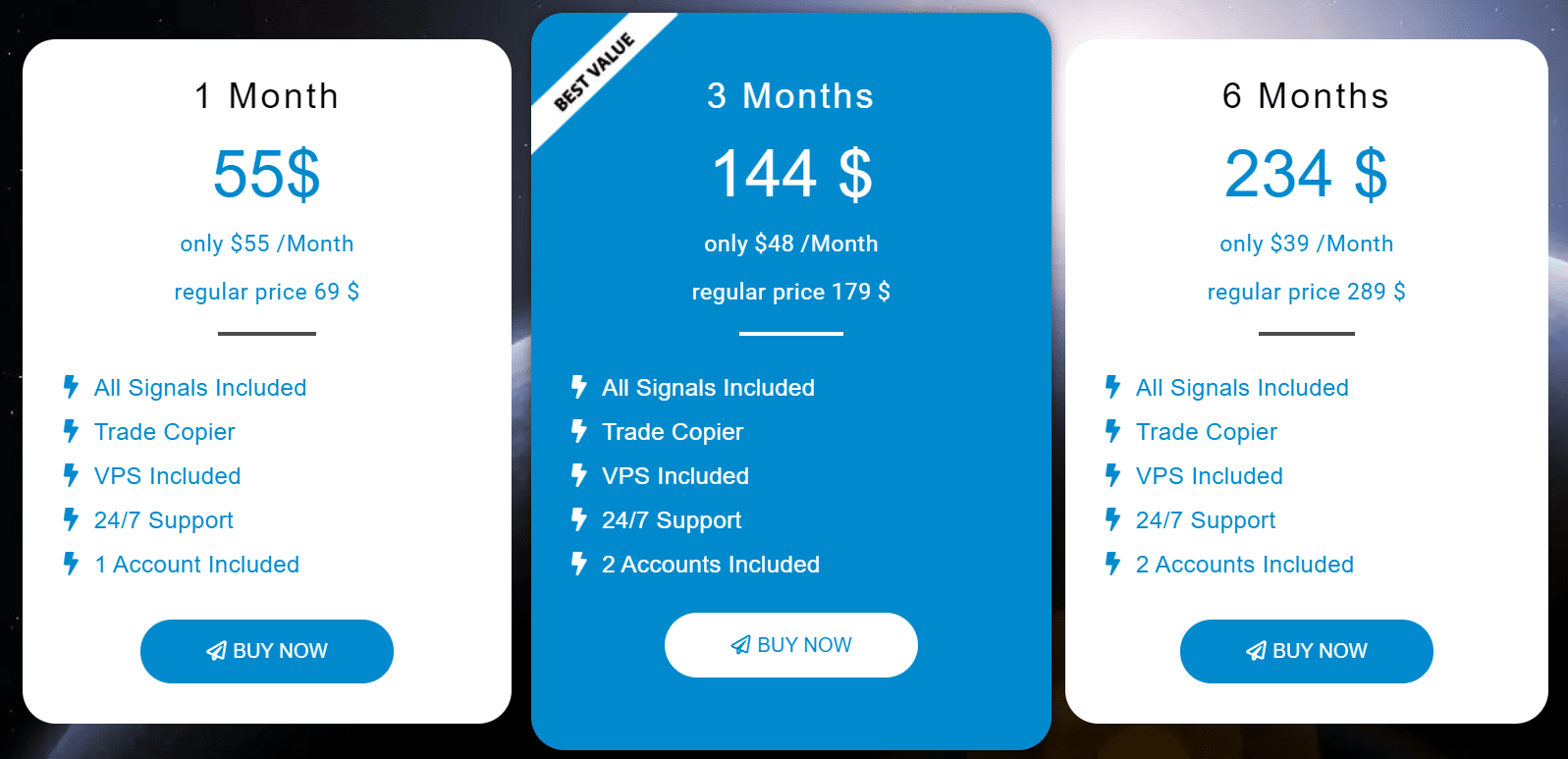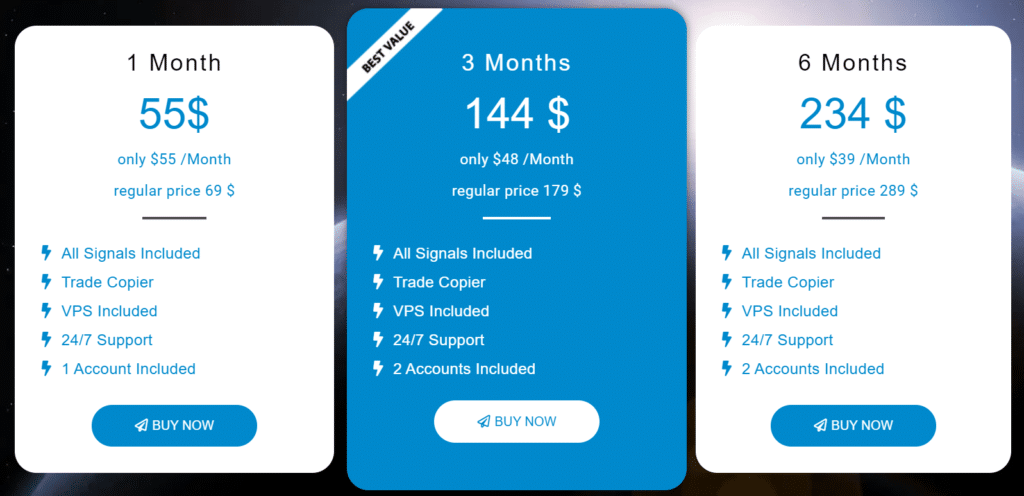 The offer includes three packages: a one-month subscription, a three-month subscription, and a half-year subscription. The one-month subscription pack costs $55 with $14 OFF. The three-month subscription costs $144 with $35 OFF. The six-month subscription costs $234 with $55 OFF. All packs are featured by signals, copy-trading software, VPS, 24/7 support. The first pack allows copy-trading only on a single account. Three and Six-month packs let us trade on two accounts.
Waw Forex Signals backtests
There are no backtests because, most likely, the developers use third-party software to generate these signals.
Trading results
We couldn't find trading results. We've googled for them and checked myfxbook, but alas there were no them. It seems to us that the vendor is a scam because we know that it's impossible to convince people to subscribe to signals without providing trading results.
Other notes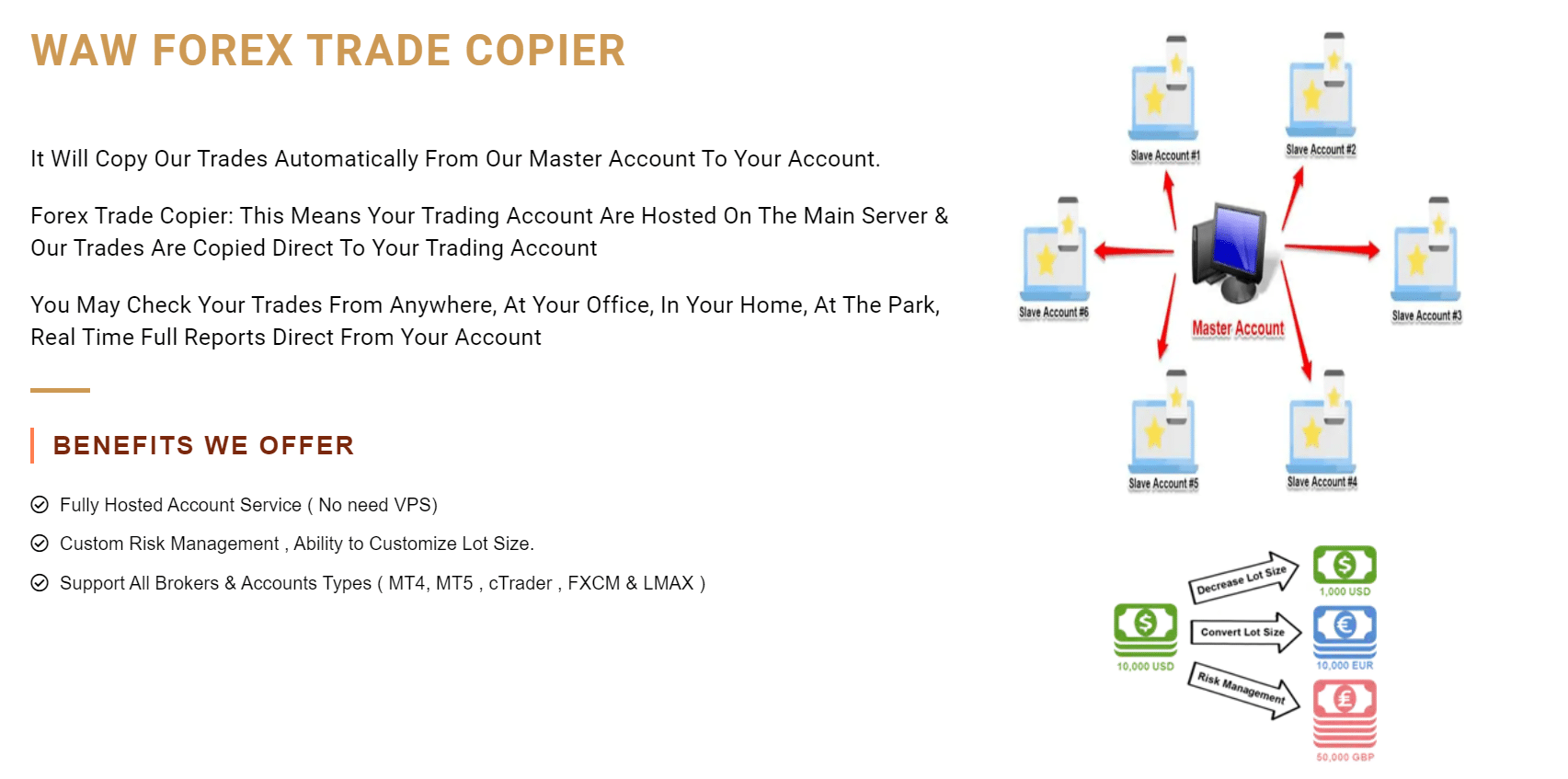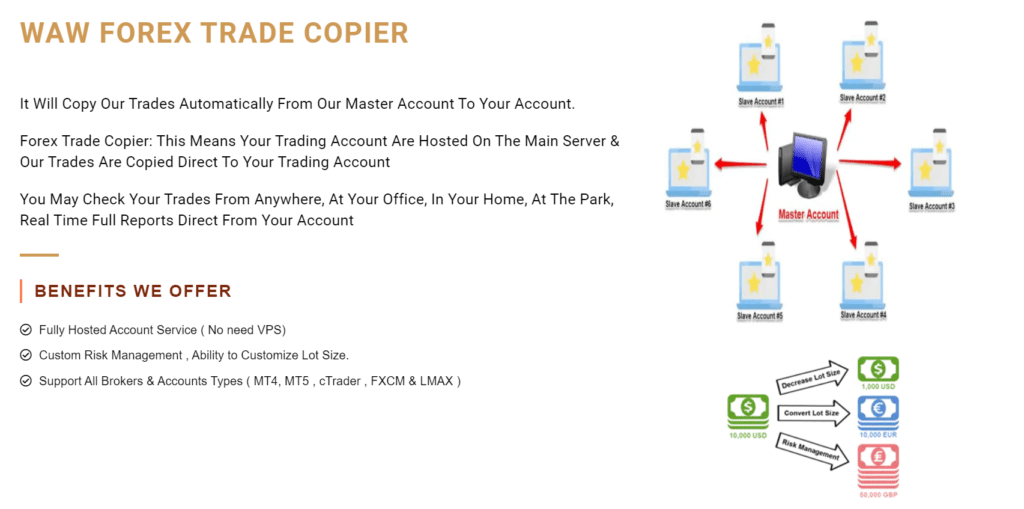 From how copy-trading works explanations, we know that we can customize risk and Lot Size before executing an order from the master account. The system supports many platforms like MT4, MT5, cTrader, FXCM, and LMAX. We're free to use any broker we want.
People feedback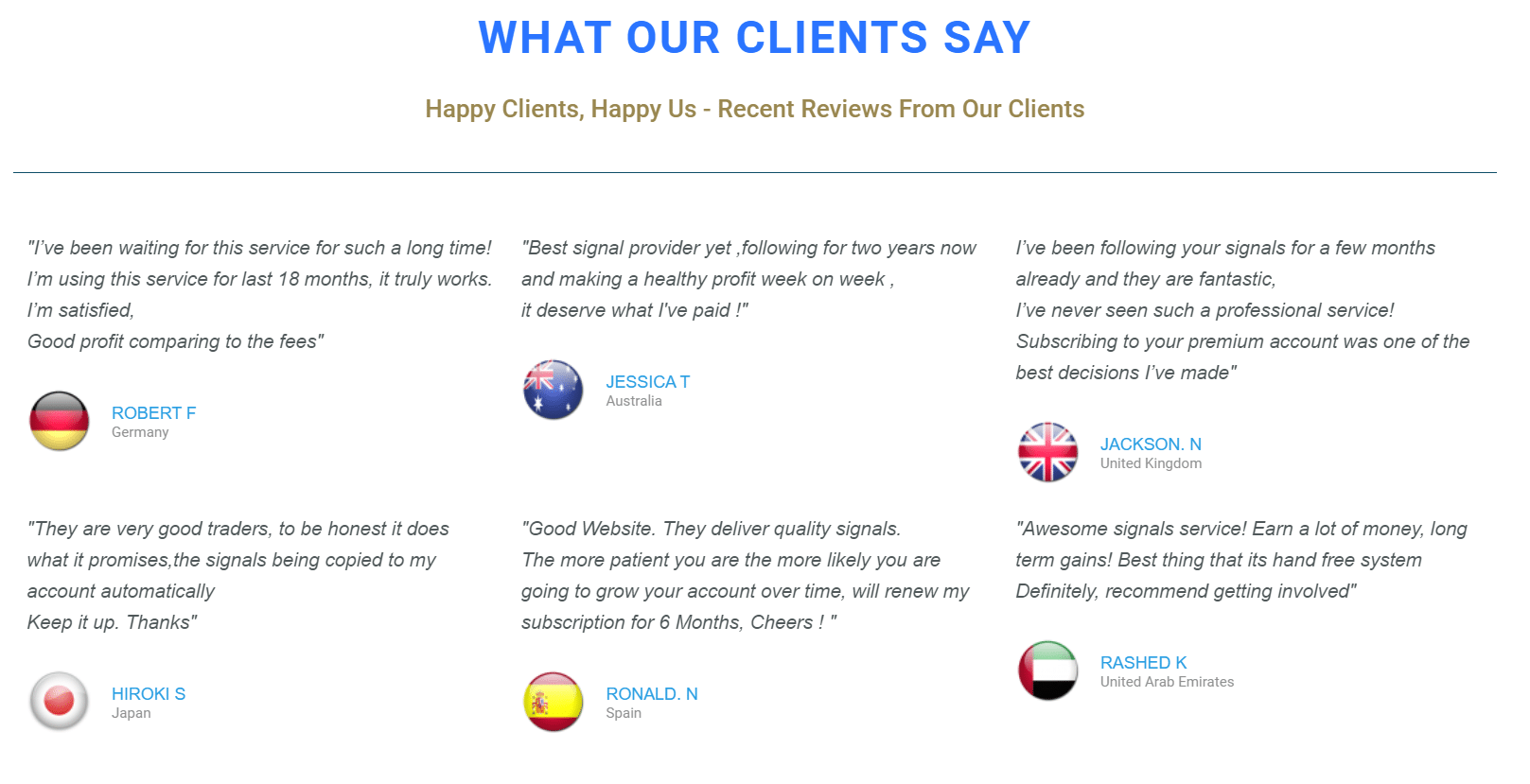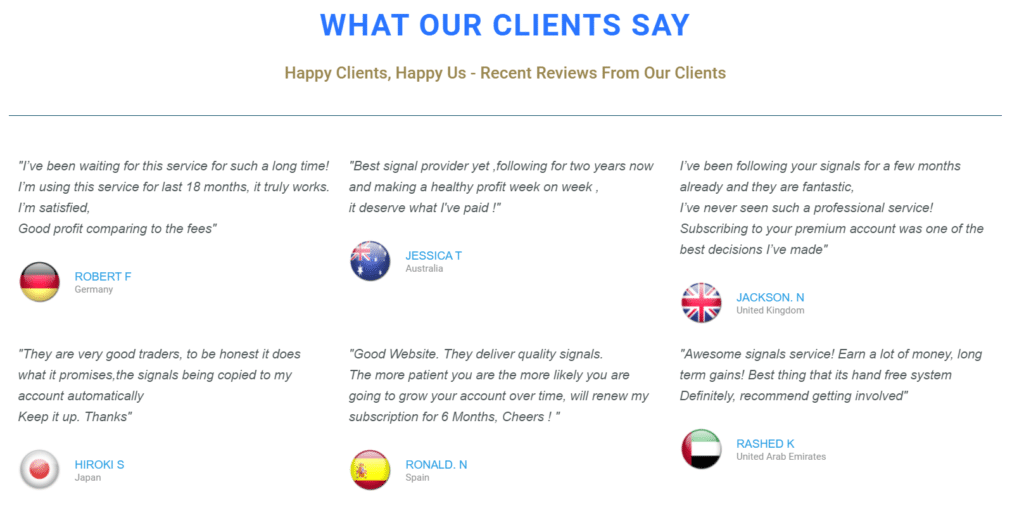 The presentation includes only positive feedback. It looks like they are all fake because they're faceless. The devs wrote them when they launched the presentation.
Wrapping up
Advantages
Disadvantages
No team revealed
No strategy explanations provided
No info about expected drawdowns provided
No backtests provided
No previous trading experienced proved
No verified trading results provided
No pips gained table provided
No money-management advice provided
No risks advice provided
No account balance and Lot Sizes advice provided
No real feedback provided
No accounts on Forex Peace Army created
Summary
Waw Forex Signals is a signal provider that has nothing to show. As usual, a company that suggests signals introduces strategies that it uses sometimes backtests trading results. Almost always, we can see a pip gained sheet with weekly and monthly results. The company creates a Telegram channel to provide info, free signals for upcoming clients to check and gather people together. We have nothing useful at all. There's just good-for-nothing wording.