Yoshi is a decentralized trading platform that is backed by many DEX projects, including Pancake Swap, Sushi Swap, Uni Swap, Morpheus, Protofi, Hyperjump, and others. It is compatible with a variety of blockchains, including Fantom, Binance Smart Chain (BSC), and Ethereum. The platform has its own token and allows traders to buy cryptocurrency with their credit cards. You can use Metamask or other wallets for connecting purposes. Our article will review the assets, deposit options, and features to let you decide if it is worth using in 2022.
Yoshi background
The website lacks information about the team of developers, date of launch, or company background and vision, thus indicating a poor vendor transparency. The website provides an email for traders to get further support and questions about the platform. It has a native token called Yoshi with a circulating supply of 128,175,559.84 and a market cap of $55,723,542.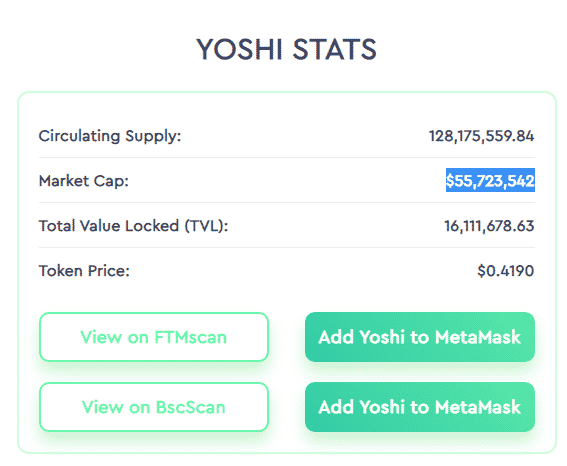 Yoshi overview
Yoshi offers swapping tokens by aggregating liquidity from multiple exchanges. You can move coins from one blockchain to another using the bridge feature. The widget allows you to add the platform to your website. It can be customized using a number of settings including custom UI flows, and webhooks.
Pros & cons
The positives and negatives of trading on the Yoshi platform are as follows:
Pros
You can transfer coins from one blockchain to another on the platform
Easy purchasing of coins from your credit card
Cons
There are no customer reviews for Yoshi exchange
Lack of vendor transparency
No mobile application
The following table shows funding methods and supported cryptocurrencies.
| | |
| --- | --- |
| Funding methods: | Credit card (visa/MasterCard) |
| Cryptocurrencies supported: | Yoshi, Sushi, FTM, USDC, FUSDT, DAI, CRV, WBTC, BNB, ICE, LINK, ANY, BOO, CAKE, BUSD, etc |
| Countries: | N/A |
Interesting features of Yoshi
Some of the most exciting features of Yoshi include:
It integrates with several DEX projects like Sushi swap, pancake swap, uni swap, Dark knight, etc.
You can directly buy crypto through a credit card.
Yoshi allows users to integrate widgets on their websites and projects.
Hacken.io, a cyber security service company, provides security to the platform.
What wallets does it support?
You can connect your wallets to the platform by creating an account on the supported platforms. Yoshi allows traders to link to the following wallets:
Metamask
Wallet connect
Coinbase wallet
Clover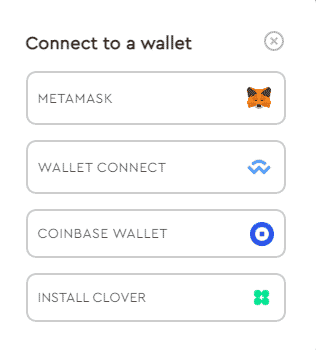 How does Yoshi work?
Traders can start trading cryptocurrency on the platform in the following steps:
Connect your wallet, e.g., Metamask
To proceed with the purchase, you must pass a KYC
Provide a valid credit card
Choose the swap and a receiving token
Purchase the token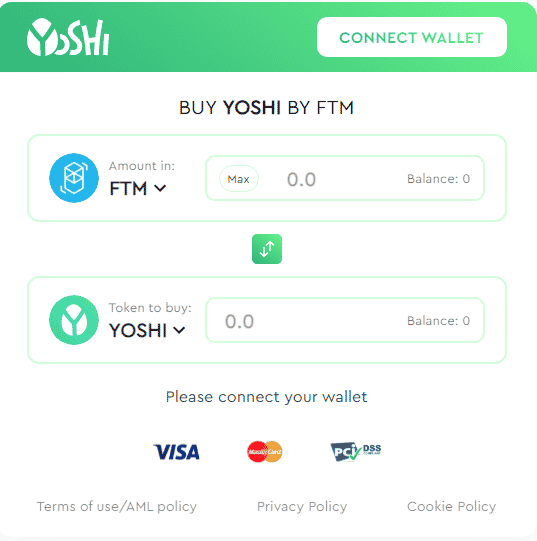 What can you buy with Yoshi?
The Fantom Opera blockchain serves as the foundation for this platform. Some of the most popular tokens on Yoshi are as follows:
CAKE, BUSD, AAVE, WBNB, fUSDT, ETH, SUSHI, BOO, BNB, DAI, FTM, USDC, CRV, Sushi, DEUS, etc.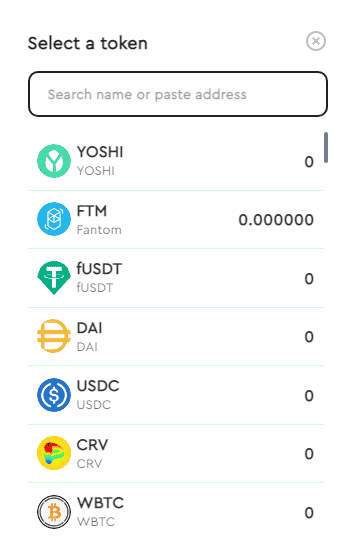 Are there any risks with Yoshi?
Yoshi is a new trading platform and is still in development. There are no verified customer reviews which means that not many traders use this exchange. The website lacks vendor transparency raising a red flag about its reliability.
Yoshi fees
The vendor does not provide information about the swap fees for this platform on their official website. On all trades, liquidity providers earn a 0.25 percent fee according to their part of the pool. Commissions are deposited into the pool and can be reclaimed by withdrawing your liquidity.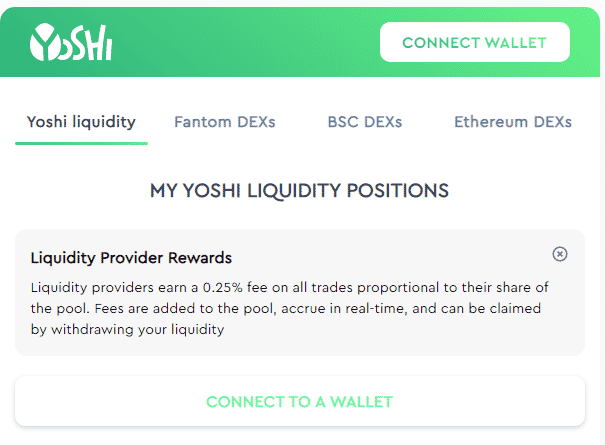 Deposit methods
For conducting swaps, your portfolio should have enough tokens. You can deposit crypto directly from your visa or MasterCard. It uses a native Yoshi token for the buying process and accepts payment by DEX aggregator for your web projects.

Should you buy it?
Yoshi does not provide a complete list of the available token; thus, we do not precisely know the number of supported coins. There is no information about the fees on trades or support for mobile phones.
The Review
Yoshi's is a decentralized exchange that lacks proper vendor transparency and proper user guides. There is no customer feedback for the platform on any reputable source, raising concern if it is genuine and trustworthy. The website fails to describe essential exchange functions such as fees, withdrawals, and so forth. Customer service is solely available via email.