Zappy is a decentralized exchange that works as an automated market-making (AMM) system based on the Telos network. The system has a ZAP government token behind the service that can be staked, farmed, and swapped.
Zappy background
According to the documentation, the platform was created in 2021 and the native token was issued on February 17, 2022. We don't know details about the developers, except only one mention that the service belongs to Zappy Finance.
Zappy overview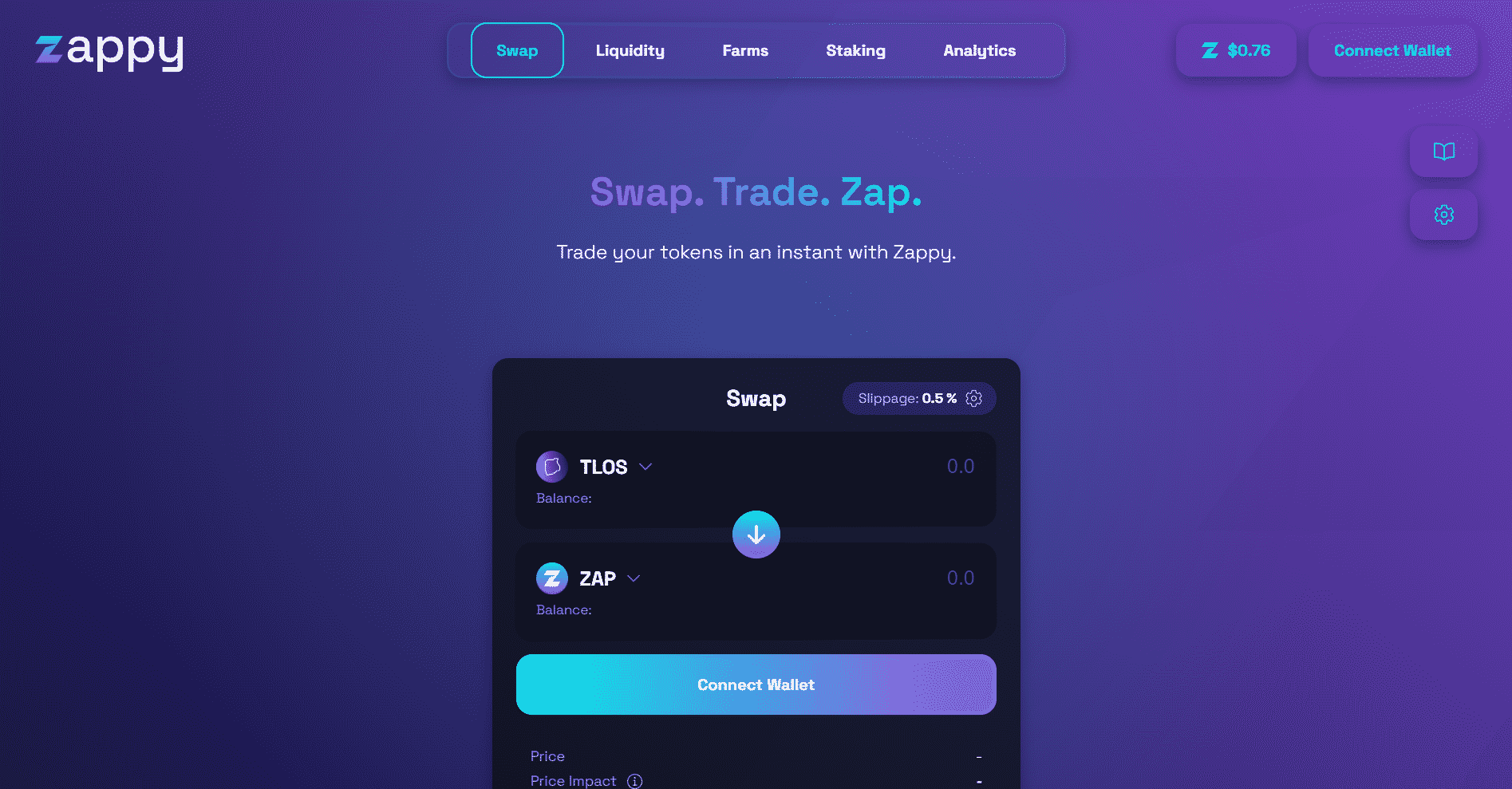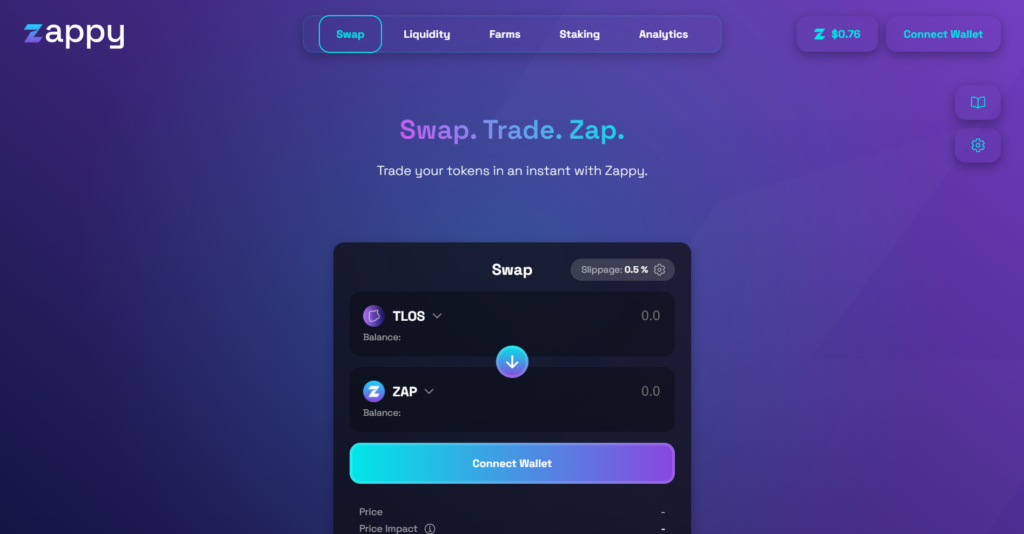 Let's talk about what details of how the platform works and how we can use it:
The platform provides us with swapping possibilities of our tokens.
We can swap them almost instantly.
It's possible to join dual-coin farms to make more tokens as rewards.
We can stake ZAP native tokens to get more of them.
The developers will provide us with governance possibilities.
We will be able to lend and borrow within the Zappy's decentralized lending protocol.
We can work with any Telos token here.
It's possible to connect our Metamask wallet.
During staking, ZAP tokens convert into xZAP ones.
The pools get profits from swap fees.
Liquidity Pool tokens can be used for Yield Farming.
There's a 0.2% trading fee charged.
0.15% of it is returned to liquidity pools as a reward for liquidity providers 
0.05% of it is used to buy back ZAP and distribute it to Stakers. 
Traders have to pay gas fees to make transactions on the blockchain. On Telos, gas fees are always paid in TLOS.
The slippages for some tokens can be up to 5%.
If we provide liquidity, we receive LP tokens as proof of contribution. 
We can create our own pool if needed.
ZAP rewards are updated every few seconds.
Staking is fees-free.
Pros & cons
Pros
Swapping any Telos tokens
Native tokens for staking and yield farming
Cons
No team revealed
No risk explanations provided
Key features of Zappy
We can work with their native token.
It's possible to swap, stake, and farm it.
It's possible to work from our wallet directly.
The wonders charge pretty acceptable commissions.
What wallets does it support?
It supports only a Metamask wallet.
How does Zappy work?
The platform works based on the Telos network.
What can you buy with Zappy?
We can purchase their native token ZAP or work with Telos native token–TLOS.
Are there any risks with Zappy?
The risks are average. Hackers can exploit liquidity pools and steal all tokens.
Zappy fees
The system charges 0.2% for all swapping operations.
Deposit methods
We can only work with Metamask to deposit our coins. So, this is only one suggestion.
Should you buy it?
It's completely up to you. This decentralized exchange looks common. The token has familiar functionality, but we don't have governance functionality for now. It revealed that the project is a brand-new one.
Final word for Zappy
The platform includes the possibility to buy, swap, stake tokens into pulls, and deposit liquidity on dual-assets liquidity pools to get some extra coins as rewards. The service works with a low commission from every performed trade – 0.2%. Unfortunately, we don't have customer testimonials to check their experience of using this platform.