Zenbot is a bot that works on a crypto market. The presentation includes folders and files on the system. We can check them for free if we know any coding language. So, we are going to do to analyze out the efficacy and reliability of this crypto trading tool to decide hether it is worth a try.
What is Zenbot?
Zenbot is a completely open-source software. We can be involved in software development to improve the stability of the system.
Quick summary
The advisor solution will work automatically for us.
We can participate in designing the robot.
It's available for free.
Zenbot: background
The system was designed by Carlos Rodriguez in 2018. We don't have extra knowledge about how the system works.
How does it work?
We have some details explained about how the system is going to be profitable working on our account.
The presentation shares information about automatic orders execution.
This project isn't supported anymore.
It's a command-line cryptocurrency trading bot using Node.js and MongoDB.
This means that we should have proper experience to work with it well.
The system proceeds technical data automatically.
It can be used on several exchanges: Binance, Bitfinex, Bitstamp, Bittrex, CEX.IO, GDAX, Gemini, HitBTC, Kraken, Poloniex, and TheRockTrading.
We can expect that the supporting list will be extended.
It's possible to design our own strategies.
We are allowed to perform paper trading for the system.
There's provided historical data.
We can manage sell stops, buy stops, and (trailing) profit stops.
It places 1-2 orders on H1 or 15-50 orders daily on M5.
The robot is not a "sure-fire" trading solution.
It is possible to customize risks we are going to work with.
The list of settings can be managed by us if we have proper experience.
We have to monitor the system consistently.
It sets relevant SL and TP levels for every order on the market.
The default parameters aren't great to work with.
We can work with it for free.
There's no warranty provided.
The core strategy is trend trading to spot trading opportunities, checking the moving average convergence divergence calculation.
As an extra, we have a price action strategy that runs based on RSI, SAR, and EMA indicators.
If the market doesn't experience high volatility, it doesn't work well.
The trend time range is 2 minutes.
The 1M time frame can be used with a speed strategy.
It has to be tested properly before being used.
How to sign up with Zenbot?
To sign up, we have to follow several strategies.
We can work with four operational systems: Windows, Linux. macOS 10 (or Docker).
The Node.js version over 8.3.0 and MongoDB are required.
The system should be launched through the console.
We have to provide the system with API keys.
API keys don't require deposit/withdrawal permissions.
We can use a UI to manage orders.
We have to download the robot and customize it properly. Afterwards, we have generated API keys for it to work on our behalf. Then, we should attach a chart to our exchange account.
Does Zenbot offer a demo account?
No, it doesn't. Anyway, there should be paper testing.
Profitability of Zenbot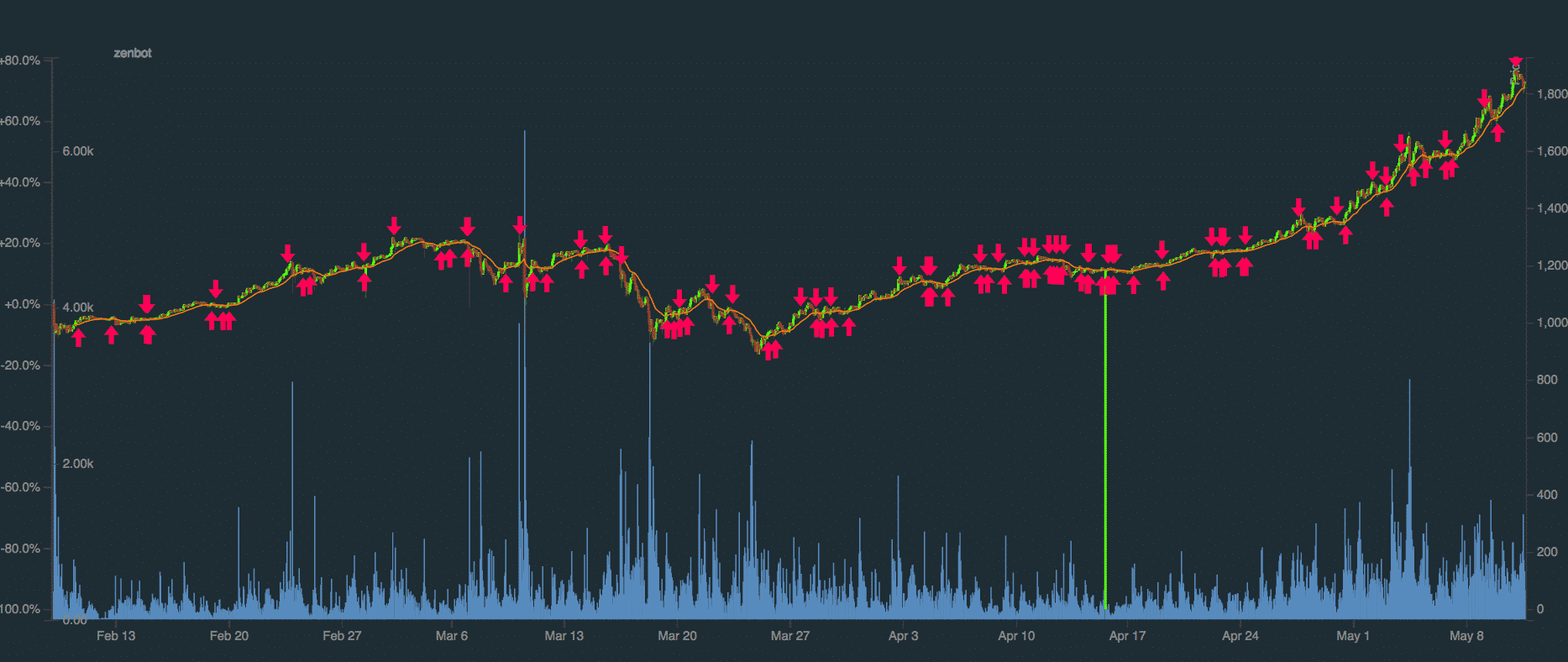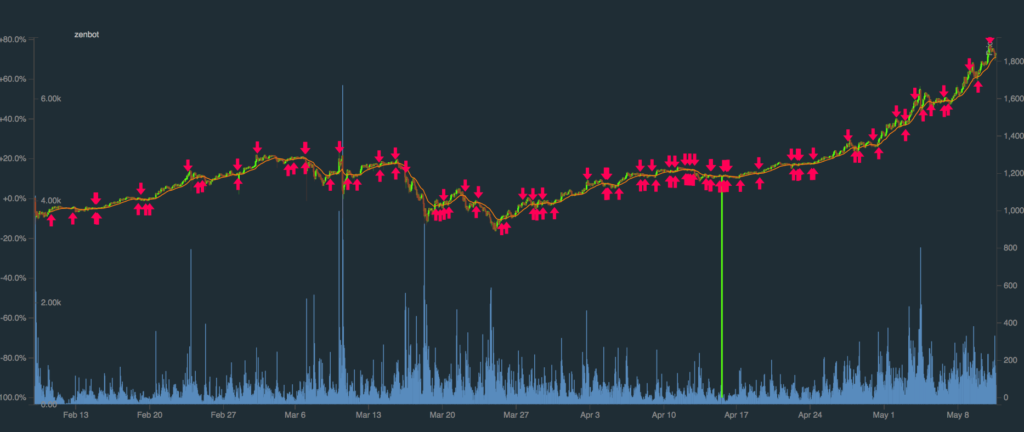 The presentation includes a file with a screenshot of testing BTCUSDT on the data from February to May (most likely 2021). The devs set an initial deposit at $1000. It has turned into $2964.50 for 90 days. The ROI was 195%. Anyway, the chart doesn't show smooth and predictable growth.
Payments, deposits, and withdrawals
The robot can be used completely for free. So, no payment is needed. Also, we should deposit something on it to start working.
Exchanges supported
Working is allowed on Binance, Bitfinex, Bitstamp, Bittrex, CEX.IO, GDAX, Gemini, HitBTC, Kraken, Poloniex, and TheRockTrading.
What about customer support?
The developers provide us with no customer support because the system is free. Also, we can ask questions to the community on Reddit.
Benefits of using Zenbot
We can trade automatically
It's possible to customize the system
The robot can be tested easily
Drawbacks of using Zenbot
The developers don't support the system anymore
We should have proper developing skills
The system has to be properly customized
Pricing review
Zenbot is a completely free solution. So, no pricing is here.
What are security measures?
The system works on the market using API keys to trade from our behalf. This doesn't protect us from losing orders.
Is Zenbot legit?
Yes, it is. We can use it if authorigites don't prohibit crypto assets and crypto trading.
Ease of use
The system isn't welcome for beginners because it requires us to have proper coding or developing skills.
Is Zenbot a good choice for automated trades?
We don't know because it requires us to have proper skills and we haven't seen trading results. So, it's simply not clear if the system is profitable.
What are the risks of using Zenbot?
The risks lie in the field that we don't know if the robot is profitable and can handle various market conditions.
The Review
Review verdict: free system with no trading results
Zenbot is a system that was designed as an open-source solution for everyone to be profitable on the crypto market. The presentation doesn't include a proper level of explanations about how the system works and, most important, what profitability we should rely on. Most likely, to manage it well, we should have relevant trading and coding experience.
Review Breakdown
Features:

Exchanges Supported:

Security:

Price:

Customer Support: