Social trading refers to a strategy where traders take cues from other experienced traders using social media platforms. Another option of social trading is where a trader copies the actions of another experienced professional. In this article, we will look at the history of social trading, how to use it well, its alternatives, and some of the top social media platforms to use when trading.
History of social trading
The use of social media in the forex and the rest of the financial market has been around for several years. Still, the concept of social trading can be traced to 2006, when a company known as eToro was started in Israel. It was one of the first companies to incorporate the concept of copy trading and social media in trading.
Today, the company has become one of the biggest forex, CFD, cryptocurrencies, and commodities brokers in the world. It has millions of customers and is valued at more than $10 billion. In 2021, the company was said to be considering going public by merging with a Special Purpose Acquisition Company (SPAC).
eToro's concept was relatively easy in that it made trading look like a two-sided marketplace. On the one hand, there are experts traders who have a proven experience in the market. And on the other hand, there are new traders who don't have any experience in the market. Therefore, experienced traders would continue with their trading as usual as the newer ones copied them.
This, in turn, led to a mutual situation. The new trader will make money without trading, while the experienced trader will take a cut from these profits.
Over the years, the social trading industry has evolved. Other companies like OctaFX and AvaTrade have introduced similar products. At the same time, social media platforms like Twitter, StockTwits, and Reddit have become popular among traders. Indeed, they are often excellent platforms to get breaking news and analysis about forex.
How social trading works
From traders' perspectives, social trading is a relatively easy process. Besides, all you need to do is to create an account, fund it, analyze the master traders, and then copy them. By doing just that, you will be making money as the master trader does his thing.
Still, under the hood, the process is relatively more complicated than that. For one, the broker needs to build a social trading ecosystem that can help traders make decisions.
For example, they need to create a specific page that collects all data from the master trader. This data includes the master traders' trades and profit and loss, and user reviews. The platform also has a tool for the master and their followers to communicate. The chart below shows some of the key stats of one of eToro's master traders.
Copy-trading profile chart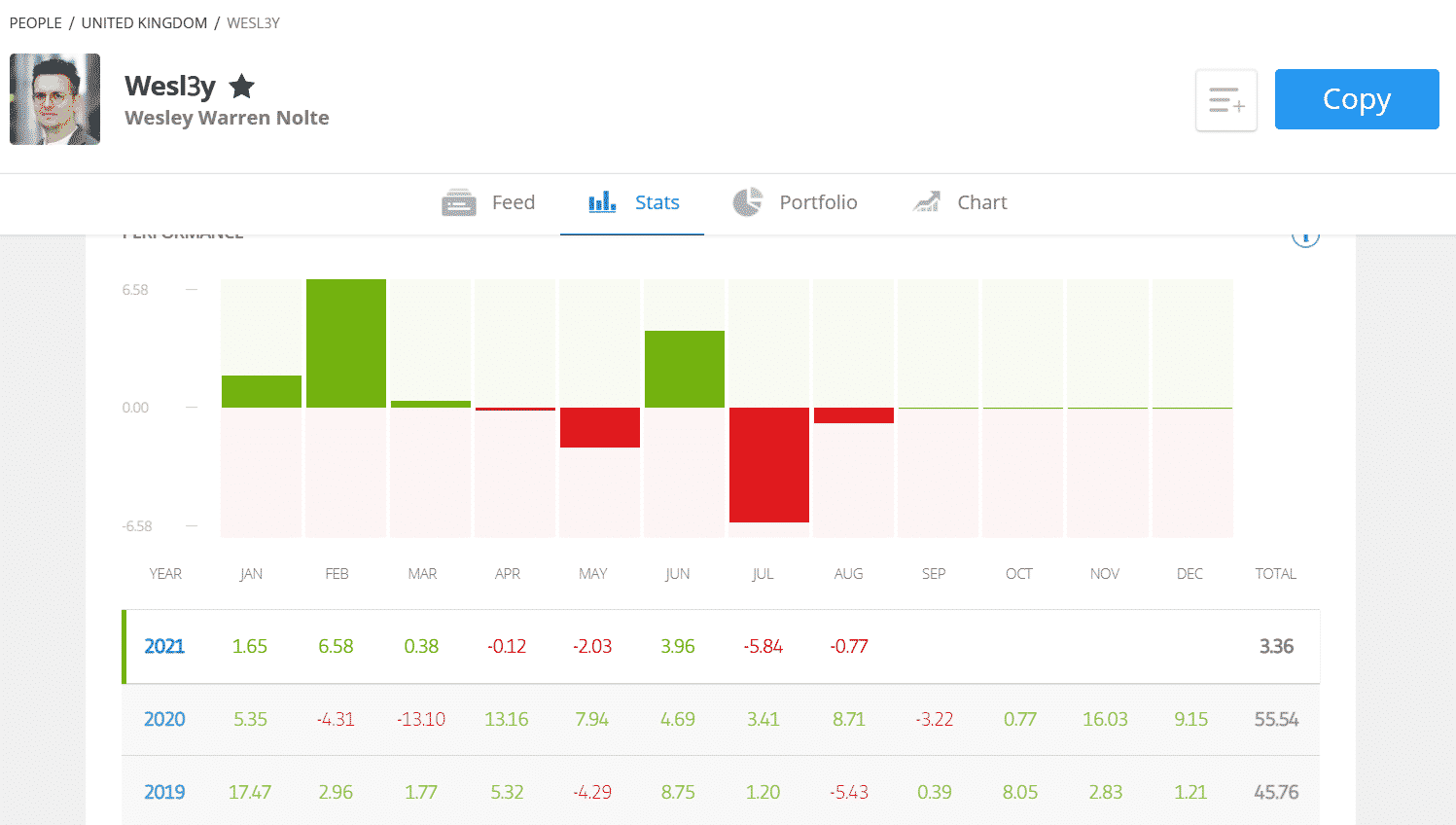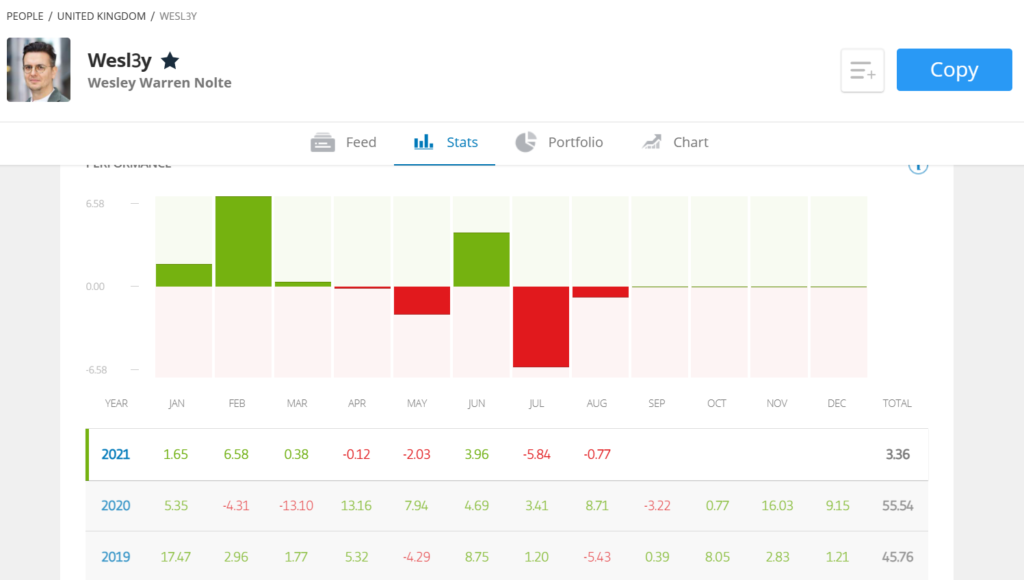 In addition to copy trading, the use of social media platforms like Twitter and StockTwits is also a method of social trading. In most cases, traders use these platforms as a way of doing their research about currency pairs and other assets. For example, a quick search of the term EURUSD on Twitter brings some important analysis like the one shown below.
Using Twitter in forex trading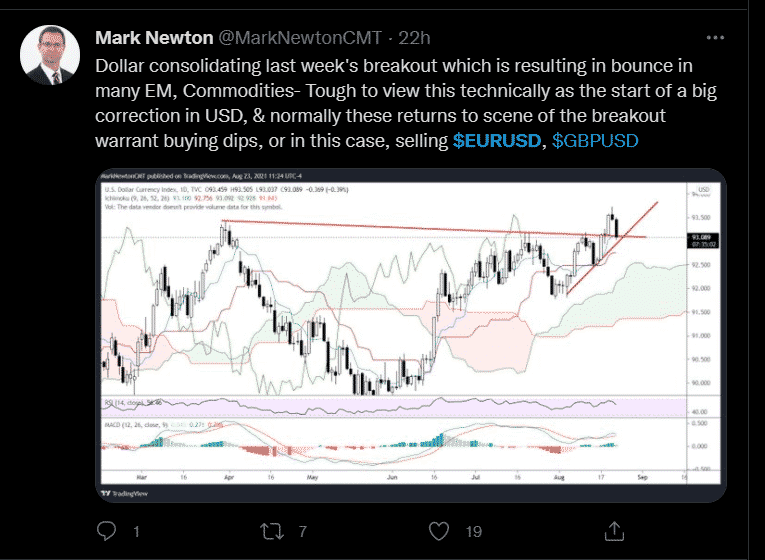 Other popular social media platforms where traders post their ideas are TradingView and StockTwits. Regardless of your experience in trading, it is possible to use this information in trading.
How to use social trading in forex
If you are a beginner, social trading in forex will help you to improve your skills and even make money without doing a lot of work. This is particularly true when you are using the copy trading strategy. If you are an experienced trader, copy trading is an ideal process that will help you diversify your income.
Additionally, regardless of your experience, you will benefit from using social media platforms in trading. A good example of this is what happened in 2021 when Reddit users managed to push unpopular stocks like AMC and Blackberry substantially higher. Let's start with copy trading and then look at how to use social media in trading.
How to use the copy trading approach
Copy trading is a relatively easy process to execute. First, you need to find a good broker that offers that feature. Fortunately, there are many brokers who offer that service these days. You should look for a broker who is regulated by a leading regulator like the Financial Conduct Authority (FCA) and the Australian Securities and Investment Committee (ASIC).
Second, you should create an account, which is a relatively quick process provided that you have your identity card and proof of residence.
Next, you should deposit your funds with the broker. These days, many brokers offer options like PayPal, Skrill, wire transfer, and cryptocurrencies. The process is also quite fast.
After this, you should read the profiles of the master traders with the goal of identifying the best performers and those who are cost-efficient. We recommend that you copy several traders since doing that will help you diversify your income. Finally, you should track the performance of this portfolio periodically.
Social media in trading
You can use social media in trading in several ways. The easiest method is to first follow people and companies that are influential in the forex market. By doing so, you will be the first to see what they post. Second, you can always search for a currency pair before you start trading. For example, you can search $EURUSD or $USDTRY to see what other traders are sharing. You should then incorporate some of these views into your analysis.
Final thoughts
Social trading is a growing concept in the forex market that many people are using today. In this article, we have looked at the historical perspective about social trading and its two main types in the industry. We have also looked at how to create a copy trading portfolio and how to use platforms like Twitter in analysis.