Japan's Consumer Price Index (CPI) jumped 0.3% from a previous reading of -0.3%.
The BoJ is planning to introduce a climate-change finance policy that will fund green investments in 2021.
Australia's unemployment rate in May 2021 (MoM) declined 5.1% from a previous reading of 5.5%
The AUD/JPY pair traded at a -0.91% price change on June 18, 2021, from the previous day. The pair had lost 2.45% week by week. It traded at a high of 83.39 and fell to 82.43. The
The Australian dollar lost against the Japanese yen after Japan's imports surged 27.9% from a previous reading of 12.8%. It beat consensus estimates at 26.6%. Exports were also up 49.6% at 6,261,276 yens in May 2021 (YoY) from 4,185,565 in 2020. 
There was a positive trade balance in most countries, including the USA (+3,415.3%) and India (+313.2%) with Japan. Imports from China exceeded exports leading to a negative trade balance at -50.3%. Overall, Japan's trade balance declined to JPY-187.1 billion from a previous high of JPY253.1 billion, failing to beat estimates at JPY -91.2 billion.
Inflation
May 2021 saw Japan's Consumer Price Index (CPI) jump 0.3% from a previous reading of -0.3%. A 20% rise in gas prices pushed consumer prices up by 0.1% (YoY), excluding prices of fresh foods. It was the first increase in inflation since March 2020. 
The Bank of Japan (BoJ) is still optimistic that overall inflation will continue to stay below 2%. There has also been a reduction in the price of cellphone fees. Core inflation may return to 0% (YoY) if Japan goes ahead with lifting the state of emergency on June 20, 2021, as scheduled.
The BoJ is planning to introduce a climate-change policy that will fund green investments in 2021. Short-term interest rates were maintained at -0.1%, with the bank purchasing the government bonds (JGBs) to keep the 10-year yields flat. Further, the central bank extended the Covid-19 special fund by half a year to run until March 2022. 
Under the asset acquisition program, the BoJ prolonged the purchase of ETFs, and real estate investment trusts (J-REITs) capped at JPY12 trillion ($109 billion) and JPY180 billion. Despite the 0.1% increase in the core inflation, the national CPI (inclusive of food prices) fell 0.1% from -0.4% (YoY). Due to this decline, the BoJ may not taper the stimulus until the CPI rises close to 2%.
Australia's employment levels
Australia's Bureau of Statistics reported an employment change of 115,200 from a previous record of -30,600. The unemployment rate in May 2021 (MoM) declined 5.1% from a previous reading of 5.5%, beating estimates at the same level. Workers recorded under the full-employment change in May 2021 also increased to a high of 97,500 from a low of 33,800.
Labor participation rate surged to 66.2% (+0.3%) after dwindling by 0.3% in April 2021. The rate was just 0.1% shy of reaching the record high of 66.3% set in March 2021.  
Housing prices continued to boost the AUD after rising 5.4% (QoQ) from a low of 3.0%. The prices failed to beat estimates at 5.5%.
The Australian government has worked to manage coronavirus with approximately 3.3% of Australia's population vaccinated out of 6.49 million doses issued.
Covid-19 new cases in Australia
According to the data on June 17, 2021, new Covid-19 cases reduced to 11, representing a 63.33% decline from April 30, 2021.
Technical analysis
The AUD/JPY pair formed a rectangle top beginning on March 18, 2021. Price uptrend led to the pattern's formation that gave way for a short-term bullish continuation from April 26, 2021, to May 11, 2021.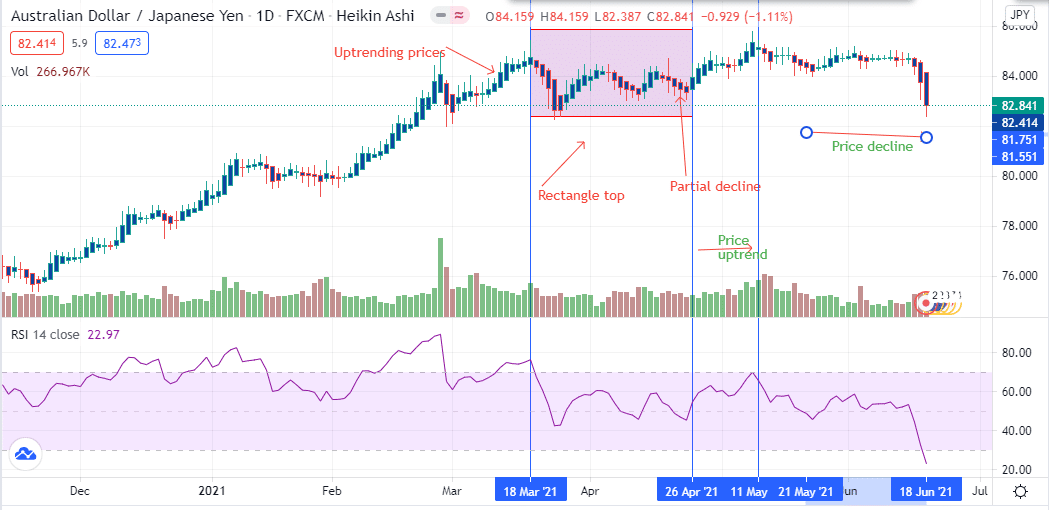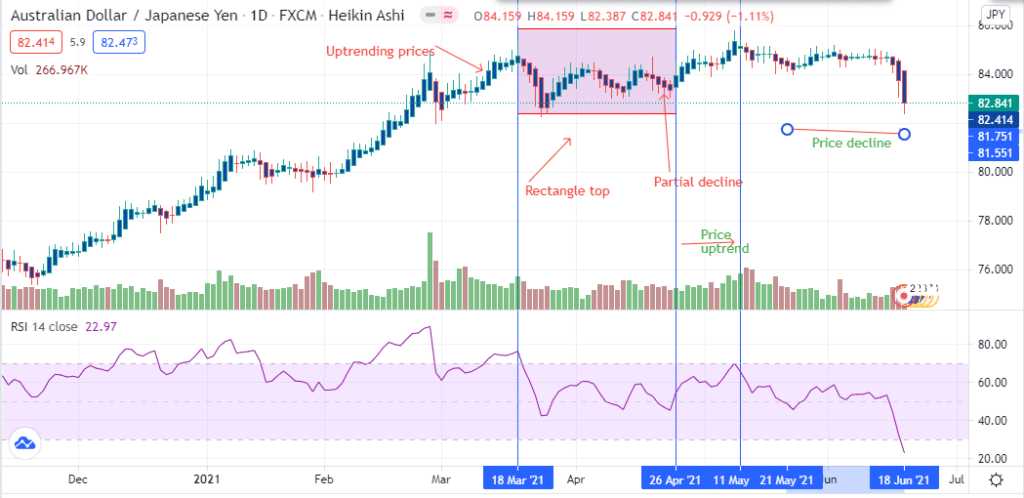 There was a partial decline that paved the way for the uptrend. Afterward, prices declined towards 81.551. We may still see a reversal of the current price decline, but the 14-day RSI supports a strong sell position at 22.97.