It is more or less challenging to constantly make money from the currency market using technical analysis. Now and then we come across traders who think they are capable of trading off pure fundamentals. Nonetheless, fundamental analysis brings conviction to our trading, but hardly can it tell you the most convenient time to initiate an entry. To make money off the forex market, traders must rely on their ability to time the markets, and this is near impossible if they're unable to grasp and view the various price dynamics i.e. supply and demand.
Some people are of the opinion that a day trader is only as good as his charting tool. And while that's arguable, it's undoubtedly true that every trader has a key role of interpreting the data that pops up on his screen; as a matter of fact, what we refer to as day trading today wouldn't exist without charting software.
So many forex brokerage companies offer an array of widely multi-functional software applications. They are mostly trading software for brokerages, with offerings like forex pair screening, research, and analysis functions. Traders will also enjoy other features such as trade automation, a host of technical indicators, a fundamental news feed, and alert features on free charting software. Because a lot of would-be traders out there are reluctant to spend money on paid charting software, I'll give you a list of free charting software to pick from:
1. Tradingview
Tradingview is a great resource. It not only offers free real-time quotes to the forex market but also to the cryptocurrency and stock markets. A free account is all that's required for you to access this charting software that comes loaded with real-time quotes. Unlike many charting software, Tradingview is cloud-based and so, traders can access the platform on any device and from anywhere. The absence of downloads or complex setup procedures is a huge plus, and users can also personalize the chart, by selecting a preferred color skin (users can switch between white skin and dark mode), plus do some other cool stuff.
Talking about cool kinds of stuff, I strongly believe the smart drawing tools, simple scanning tools as well as technical indicators are just about some of the best tools that can better point us towards buy and sell market tradeable alerts.
You'll find a strong community of users who chat and share ideas on diverse markets, within the Tradingview charting software interface, and this is a very positive social trading feature.
There are some restrictions in terms of the number of indicators that can be displayed (as you can only deploy two technical indicators at any given time on the Tradingview free versions). Free users on Tradingview have limited access to pre and post-market data. However, with paid access, traders can enjoy all the pre & post-market data, alongside access to all the indicators.
Advantages
Does not require downloading a software
Has a lightweight interface that loads fast (built on HTML5)
Free access
Tons of features i.e. drawing tools
First-rate Phone app

Disadvantages
Restricted personalization features
Android currently not supported
Here is a screenshot of what the Tradingview looks like: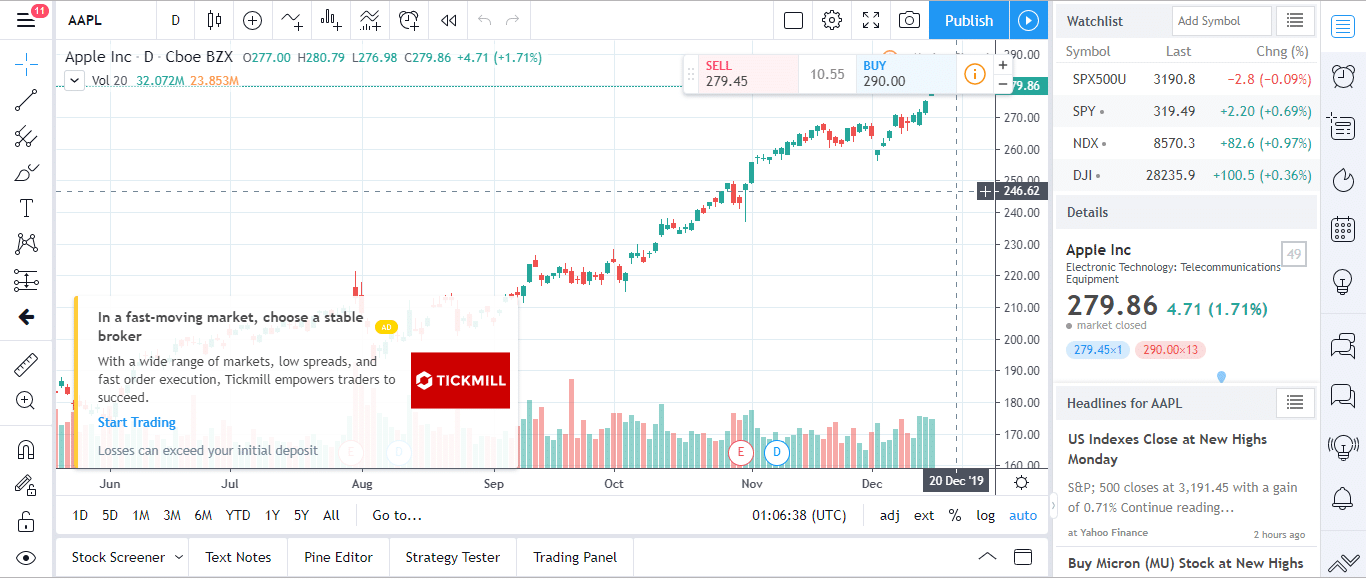 Read Our Full TradingView Review
2. MetaTrader 4
The Metatrader 4 or MT4 charting software is among the most widespread forex trading technical analysis software. Users can take advantage of the expert advisors (for trade automation) and technical indicators as tools for financial market analysis.
The MT4 chart is available on mobile phones, offering unmatched forex signals and real-time market data. Mobile devices that run on iOS and Android can download the Metatrader 4 client via the App Store and Play Store respectively, while desktop computers running on Windows and the Mac OS can also download respective clients for Windows and Mac PCs.
Forex traders choose MetaTrader 4 as a workable tool to trade in the currency market. Market participants of all skill set stand the chance of enjoying the advanced technical tools found on the MT4 platform, which include standard indicators like moving averages, Stochastics, CCI, Parabolic SAR, custom tools and expert advisors or robots.
Advantages
User-friendly interface
Access to a wide selection of time-frames
Availability to use a different type of chart patterns
Traders can add custom indicators
Disadvantages
The client interface is not light-weight
Here is a screenshot of what the MetaTrader 4 looks like along with an attached MACD indicator: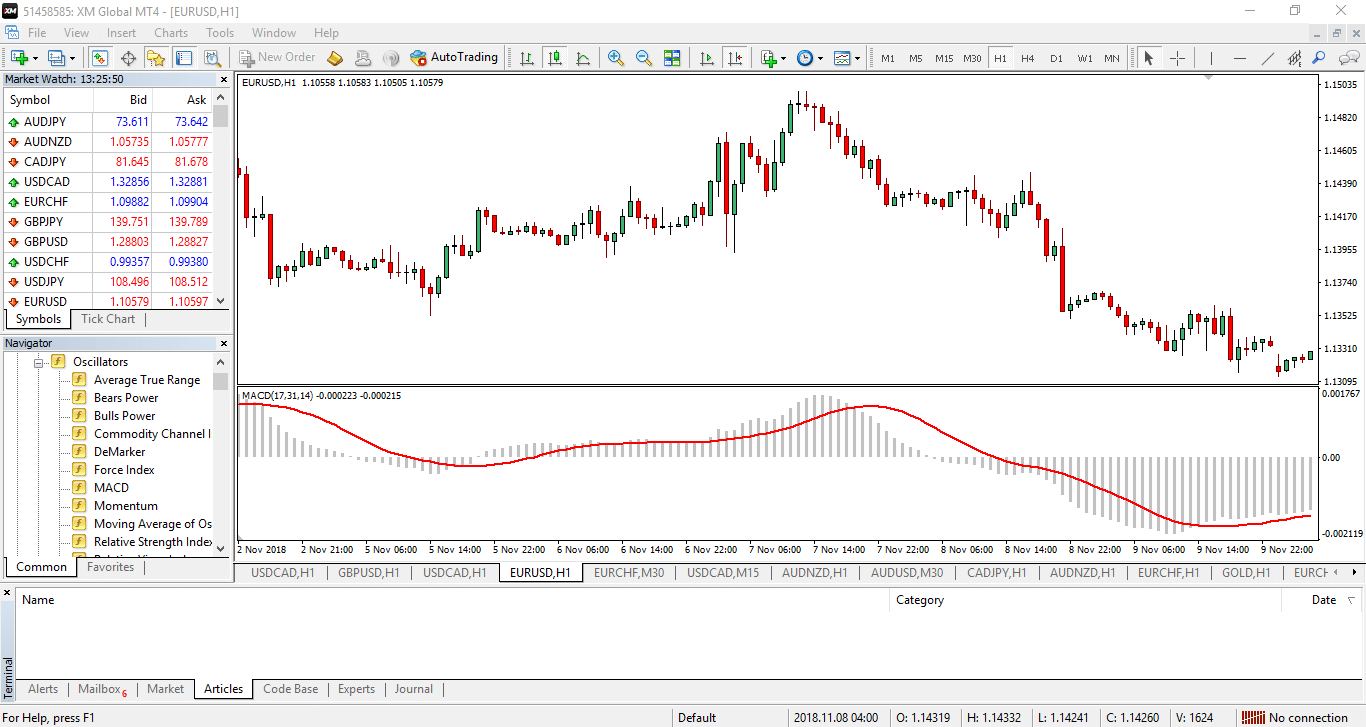 3. TrendSpider
The TrendSpider charting software depicts a state-of-the-art AI-powered cloud-based technical analysis software that is simple to deploy for forex, stocks and cryptocurrency trading.
There are features on the TrendSpider that allow users to instantly activate automatic trend lines scanner, auto Fibonacci retracement, multiple timeframe reading, candlestick patterns analysis and automatic heat maps (demand/supply regions).
The AI-powered algorithm on the TrendSpider charting software can automate a lot of your analysis and can spot what you might be missing, and so it's worthwhile for beginners to settle on this one.
It is convenient to say that with the TrendSpider charting software, you stand to make smarter trading judgments. The freely available tools can be used to search, and preconfigure your market orders with better precision and profitability.
Above all, the TrendSpider can be fully tweaked. You can personalize just about everything from the chart types, to the colors and even the trading algo to deploy.
Advantages
Full access to forex, stocks and cryptocurrency data
Improved customization support
Fast loading speed and enhanced interface
Tailored patent-pending analysis and monitoring tool
Disadvantages
The patent-pending analysis and monitoring tools will require a bit of learning to fully grasp
4. NinjaTrader
The NinjaTrader is an integrated trading and charting software that offers an end-to-end trading solution from trade launch to completion, with custom-made modification options alongside intermediary library linkage well-matched for over 500 apps and supplementary products. NinjaTrader has remained one of the most widely deployed trading platforms, especially within the currency and futures market.
Users can take advantage of the very handy trade simulator that supports risk-free trade execution for up-and-coming traders, and this is irrespective of the standard over 100 technical indicators, research materials, fundamentals, and charting tools. NinjaTrader supports free advanced charting, trade simulation and backtesting. It is also possible to live trade using the platform's free charting variant.
Advantages
Fully customizable charts
The platform offers partial and full strategy automation
Supports thousands of apps and add-ons from third-party developers
Free daily webinars and video archive
Disadvantages
Final Thoughts
It is worth mentioning that the forex broker you will eventually end up with can hamper the tools available to you. Trying out any free charting software is simple and harmless; we even find most paid services offering a no-cost trial period that can stretch for as long as one month.
It is clear for everyone to see, that the charting software scene is like an open-air bazaar, where everything goes. Have it at the back of your mind that the best charting software for stocks may not be suitable for currencies, so it is important to carry out some due diligence before settling on one. Testing is one of the most crucial criteria during selection, as no one will buy a car without taking it for a spin first, and this shouldn't be any different for charting software.