A profit target is a predetermined price level at which the trade will be closed. For forex trading, choosing a good profit target is an important component of your trading strategy because it needs you to plan ahead of time how much risk you are willing to take for how much possible return.
Profit goals are the most significant aspect of any trading strategy. It is your exits that determine whether you make a profit or a loss. You must be able to identify an appropriate profit target for your trading, one that provides a realistic profit aim while also providing a reasonable risk to reward.
What are the considerations for setting profit targets?
The targets we employ on a daily basis will fluctuate depending on volatility. If the waves are bigger, so is our target. If the waves are smaller, so is our target. Because our target and stop-loss are dependent on diverse factors, our reward/risk ratio may vary from trade to trade. It is advisable to enter a trade if the price is likely to achieve a target that is at least 1.6x our risk. A reward/risk ratio of 1.6x was not chosen at random. That is what the market usually offers before a decent-sized pullback, but it is important to note it is not always.
One is advised not to trade if the waves are too small and choppy as compared with previous trends. For example, if you're trading GBPUSD, look how it was doing before and backtest if possible. At times, the market may offer us far higher reward/risk opportunities. It is important to note that the market determines our reward/risk ratio. We simply place our orders in response to what the market is doing.
Chart patterns and tools used to set a profit target
Fibonacci retracement levels
Fibonacci retracement identifies key levels where one can place take profit. Traders add horizontal lines across a chart at the important Fibonacci retracement levels of 38.2 percent, 50 percent, and 61.8 percent, 100 percent, 161.8 percent, 227.2 percent, and so on to highlight places where the market may retrace before resuming the broader trend set by the first huge price move.
TradingView has Fib retracement levels pre-placed; thus, you do not need to plot the levels. Most forex traders use 1 as a conservative take profit and 1.618 and above as an aggressive take profit.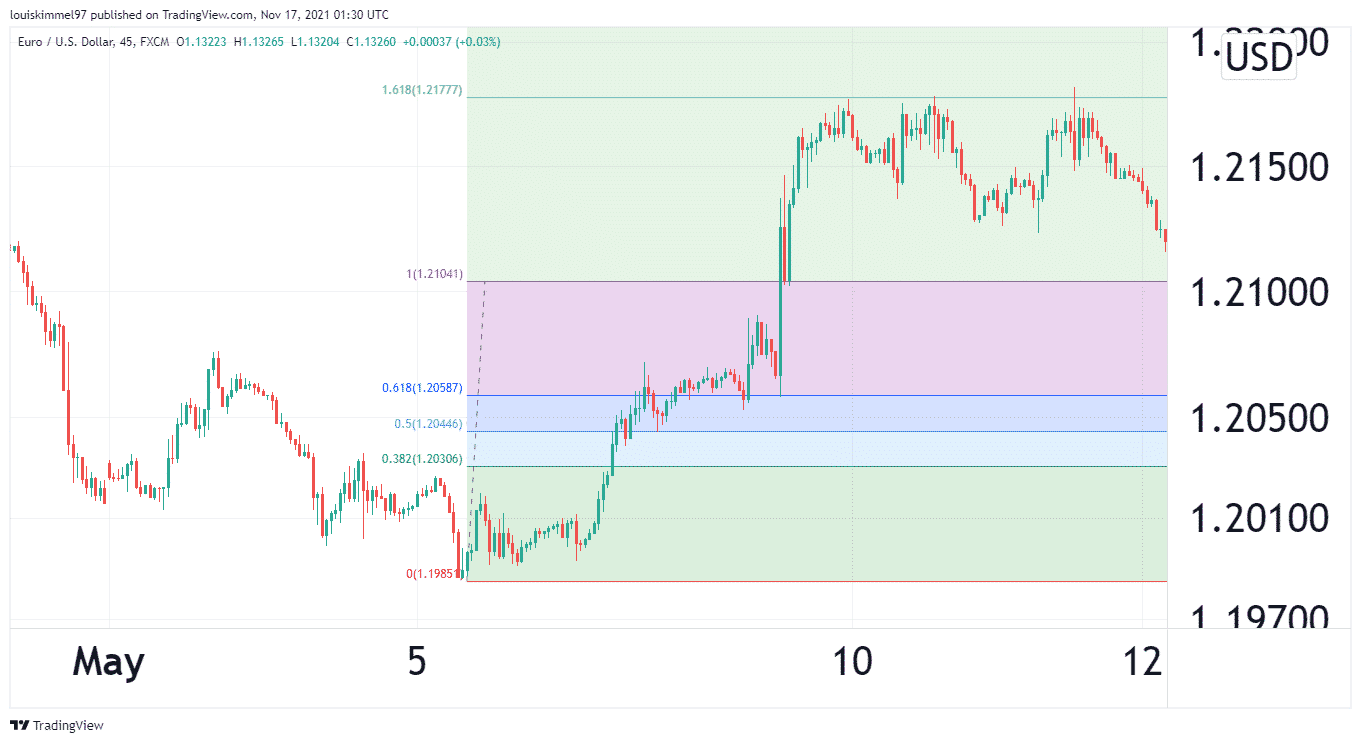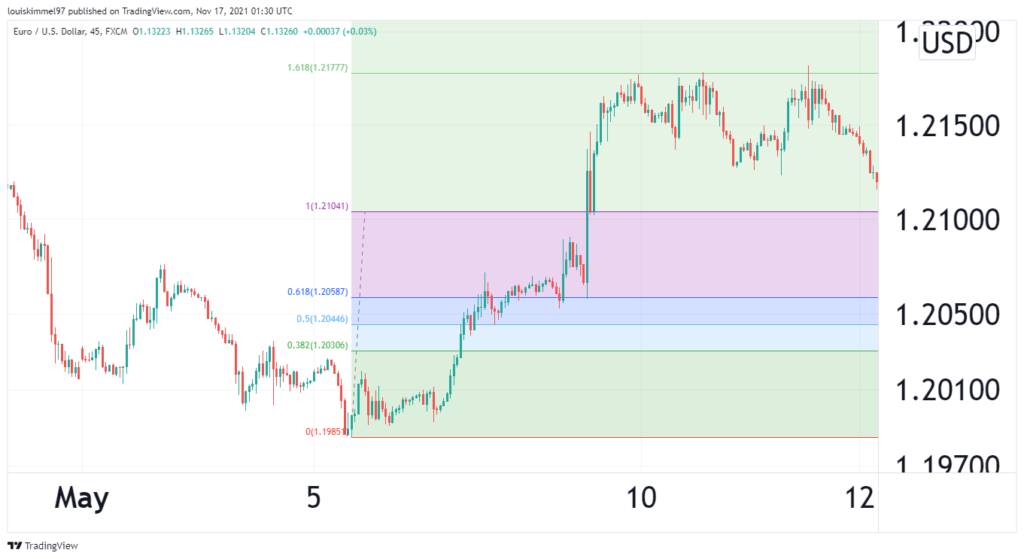 In the EURUSD chart above, there was a bullish run. If the bullish trend was predicted, one could have placed a conservative take profit at 1 Fib retracement level, which is at 1.21053. For an aggressive take profit, one could have used 1.618 Fib retracement level, which is at 1.21781.
Using support and resistance
Traders use support and resistance as a powerful tool to read and interpret price action. It is founded on the notion that the price may struggle to break above or below particular resistance or support levels. If you're in a long trade, major resistance levels can be an excellent spot to set profit targets. Support levels can be a good spot to take profit if you are in a short trade.
Resistance
In the GBPUSD chart below, the horizontal line is a key resistance level. This is because the price struggled to go above the level at different times.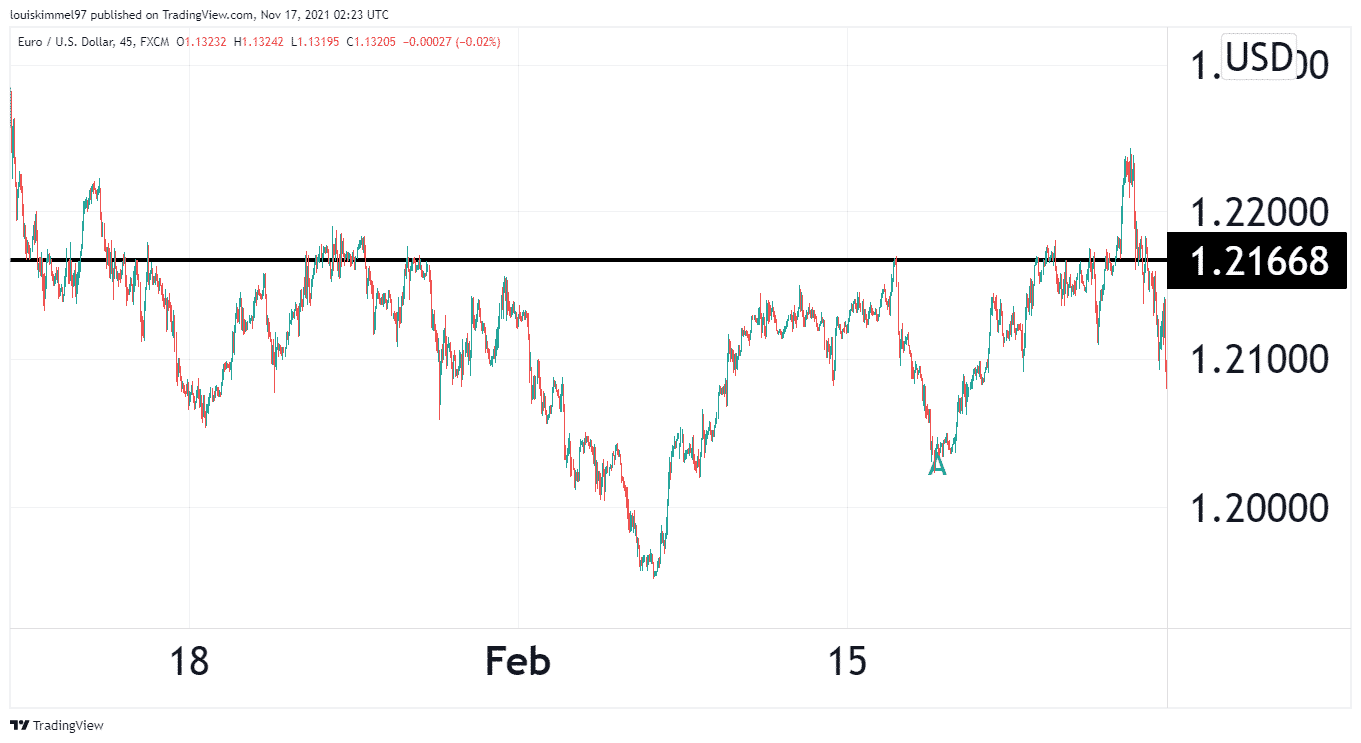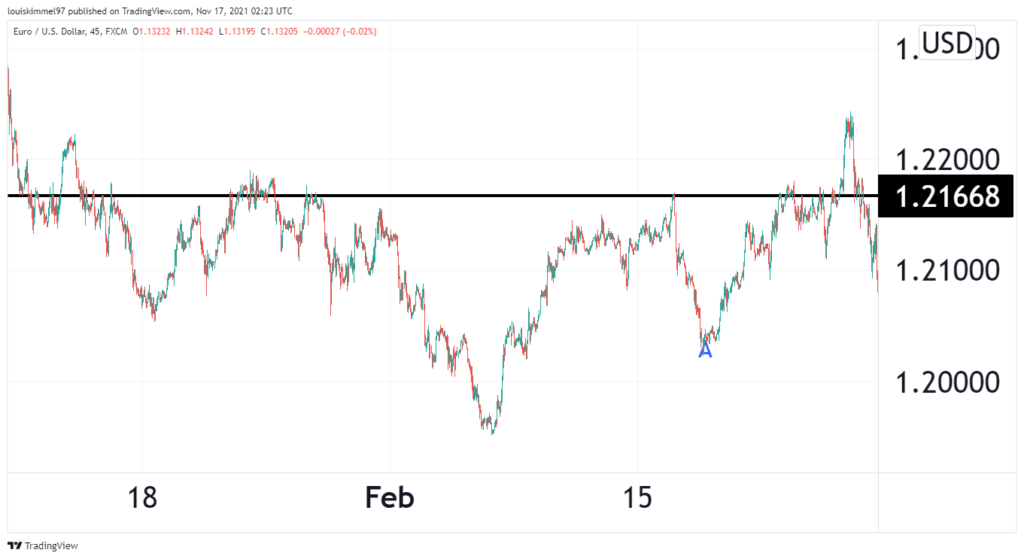 If you enter the trade at the point marked A, you can place the take profit at the black horizontal line.
Support
In the USDJPY chart above, the horizontal line is a key support level. This is because the price struggled to go below the level at different times.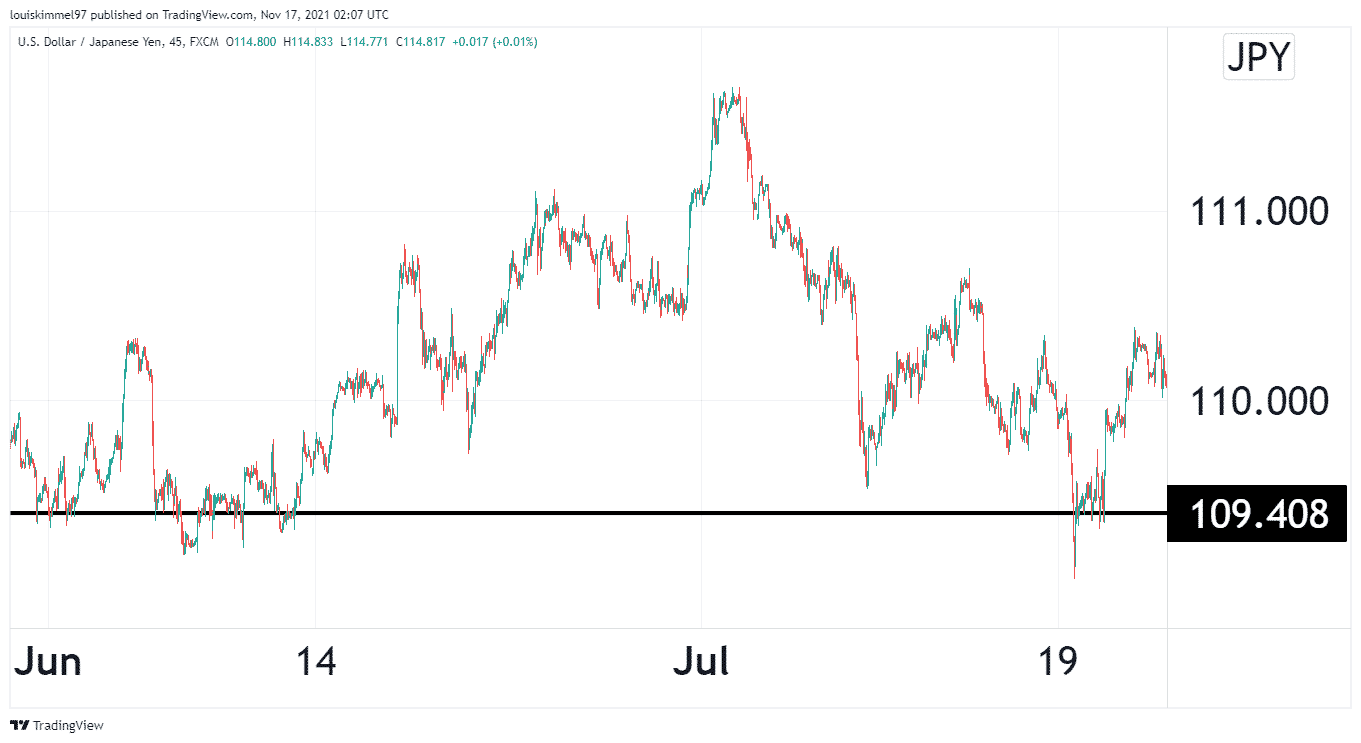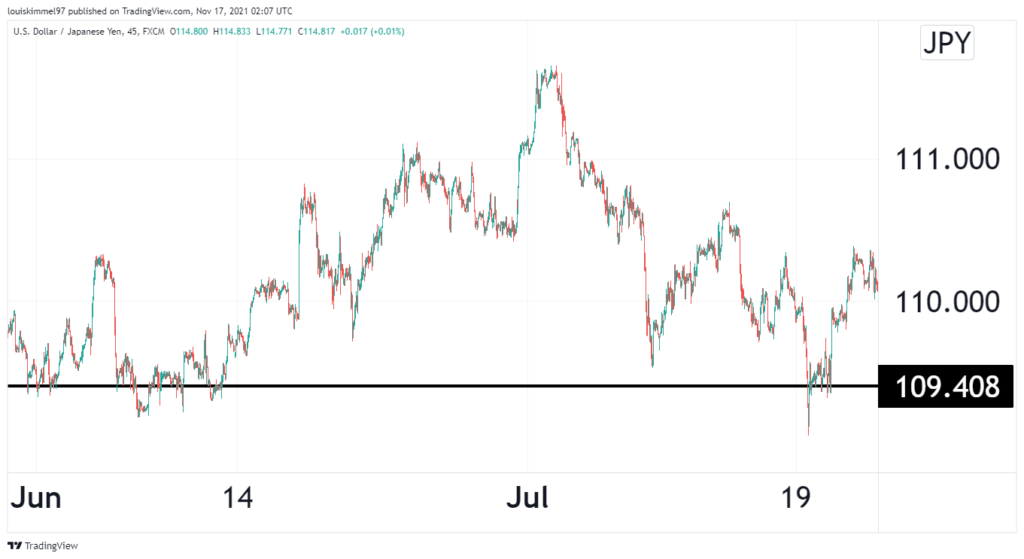 This can be used as a take profit because a reversal can be predicted at that point.
Using chart patterns
Many chart patterns can be used to set an ideal take profit—for example, the cup and handle chart pattern. You can determine the target or take profit by adding the height of the cup and the handle's breakout point. The sum is then added upwards to get the target point. The left side of the cup is occasionally taller than the right. For a conservative target, use the smaller height and add it to the breakout point. Alternatively, use the higher height for a more aggressive target.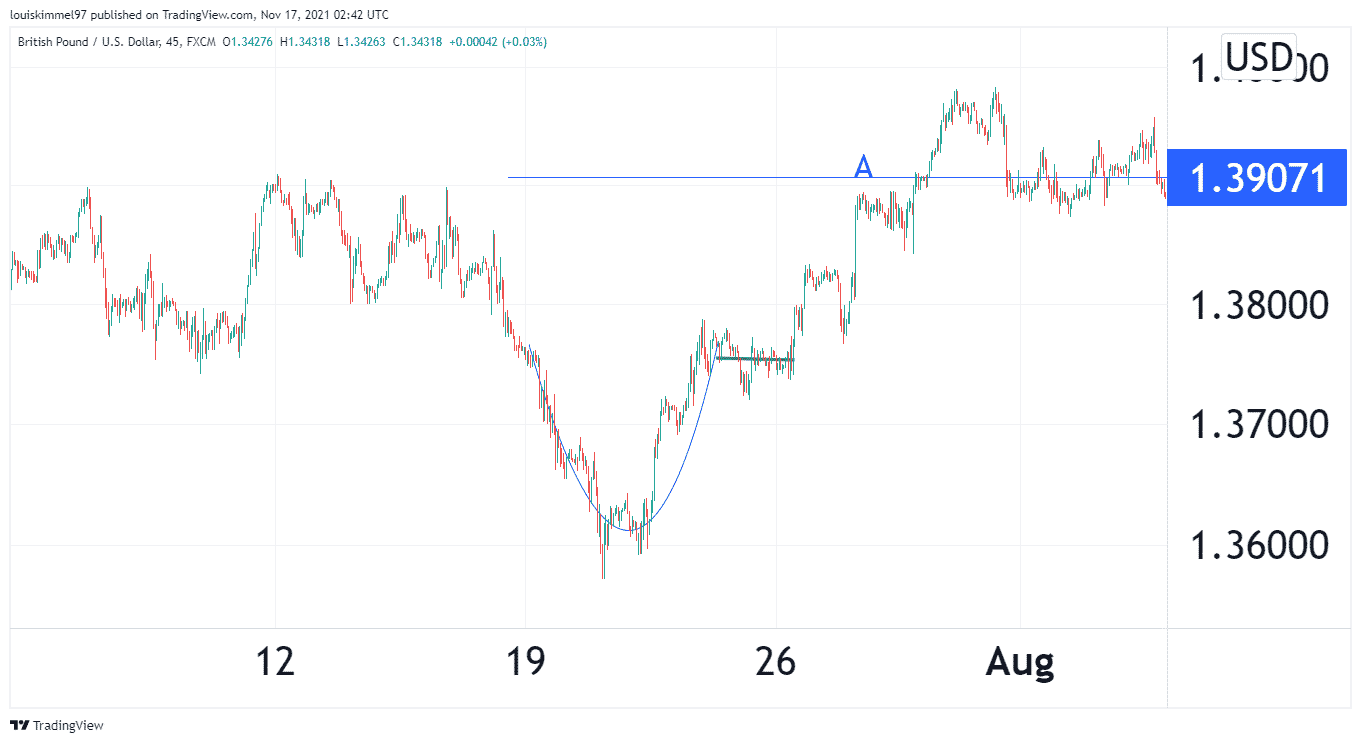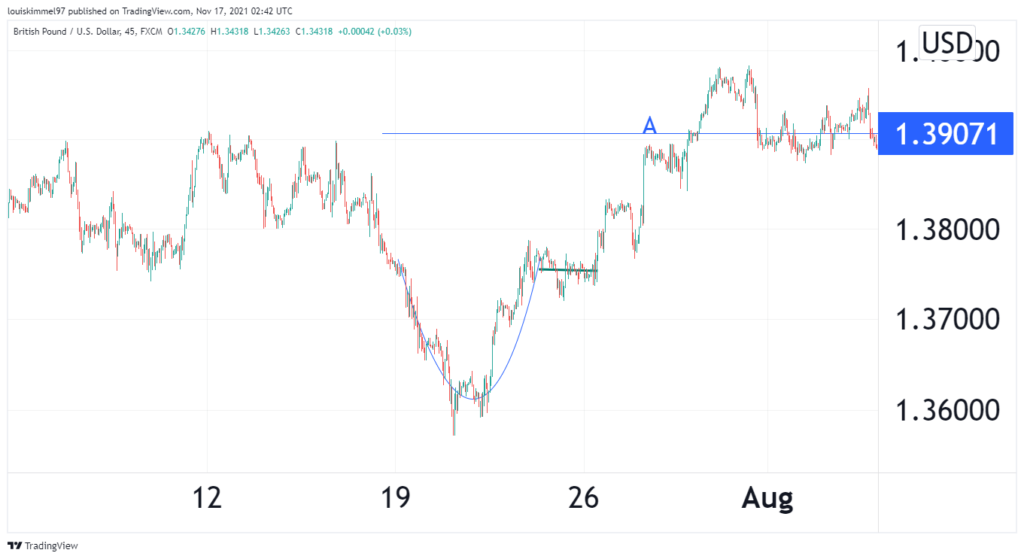 In the GBPUSD chart above, the height of the cup and handle breakout point is 151.4. The target should be the same height upwards, which is the level marked A.
Using grid trading strategy
Grid trading is the process of placing orders above and below a predetermined price, resulting in a grid of orders with steadily increasing and falling values.
If there is a bullish breakout, these orders will immediately place you in a long position. In the case of a bearish breakout, the orders are placed below the current market price to initiate a short position. As a result, you must account for all possible breakout scenarios and ensure that a pending order is activated to enter the market regardless of the trend's direction.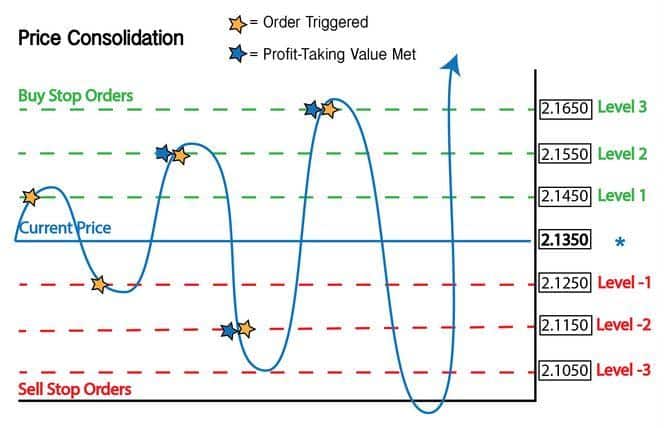 The illustration above shows how the grid strategy may work as the price fluctuates.
Conclusion
Choosing a profit target is very important when trading forex. This is because it determines how much risk you are willing to take for how much possible return. There are numerous techniques to determine your profit target using technical indicators and other tools, for example, the use of Fibonacci retracement levels, grid trading strategy, support and resistance levels, and chart patterns.