Preparing for the following week can help you be a better trader. In my experience, I have found the importance of being well prepared for the following month, week, and day. This article will explain some of the key things you need to do to prepare for the next trading week in forex.
Review the previous week performance
It is important for you to take time to review your last week's performance. Doing this will help you identify the mistakes you made during the week. It will also help you learn from your winning trades.
A trading journal or diary will help you in all this. For starters, a trading journal is a soft or hard copy document where you write all your trades. A comprehensive journal has several columns, such as the trades you are waiting for, those you have executed, reasons for opening and closing trades, and your profit and loss.
Most successful day traders always use a journal when trading. It is also a tool that has been recommended by some of the best-known trading authors like Kathy Lien and Alexander Elder. In my experience, I have found that it is a useful tool to trade and review my progress. These days, I can even compare my weekly performance in 2021 with what I did in the same week in 2019 or 2020.
Therefore, as part of your next week's preparation, we recommend that you take time to go through your trading journal. Doing so will help you avoid making the same mistakes in the coming week.
Relax
Another important strategy for preparing for the coming week in forex is to relax. An important benefit for forex trading is that the market is usually closed during the weekend. This means that all forex traders globally do not trade until when the market opens on Monday. Therefore, if you are a full-time trader who spends countless hours every day in your trading office, taking time off during the weekend can help you.
In my experience, I have established that I do better when I take a weekend off to rest and relax with my family. There are many things you can do during your weekend off. For example, you can decide to take a trip to the woods, go swimming, watch movies, or just sleep.
You could also spend some time during the weekend reading books from your favorite genres like finance and economics. Some of the books you could read are the Intelligent Investor, Against the Gods, and Investing for Financial Storms. Additionally, if you are into sports, you could spend the weekend watching your favorite teams.
The idea of taking time to relax is that you basically don't want to think about your winning and losing trades during the weekend.
Economic calendar review
An economic calendar is a useful tool that many forex traders use. The tool provides a schedule for all economic events and speeches that are scheduled for a certain week. You can customize the calendar to see the top events that will come out in the coming week. Some of these events tend to lead to substantial volatility in the forex market. For example, a speech by the Federal Reserve or European Central Bank (ECB) governors can lead to major moves in the EUR/USD pair.
Therefore, we suggest that you take time to review and write down the most important data points that will come out in the following week. Doing this will help you plan the currency pairs that you will trade.
Not all data points in the calendar are important. Some of the most notable ones are employment, inflation, manufacturing and services, Gross Domestic Product (GDP), retail sales, and industrial production numbers.
Review the news
In addition to economic data, some news events can lead to major moves in the financial market. For example, during the Trump administration, news on trade wars and North Korea led to major swings in the currencies market. Similarly, currency pairs also reacted significantly to updates on the coronavirus pandemic.
Therefore, it is important that you take time to review the news that happened during the week and assess its implications in the coming week. Fortunately, this is something that you can do even when taking the rest that we suggested in the previous section.
There are many sources of credible news reports you can use. Some of these resources are the New York Times, Wall Street Journal (WSJ), Bloomberg, CNBC, and the Financial Times. You could also spend time watching financial television for updates.
As you will realize, most currency pairs tend to gap up or down on Monday morning not because of economic data but because of the news events that happened during the weekend.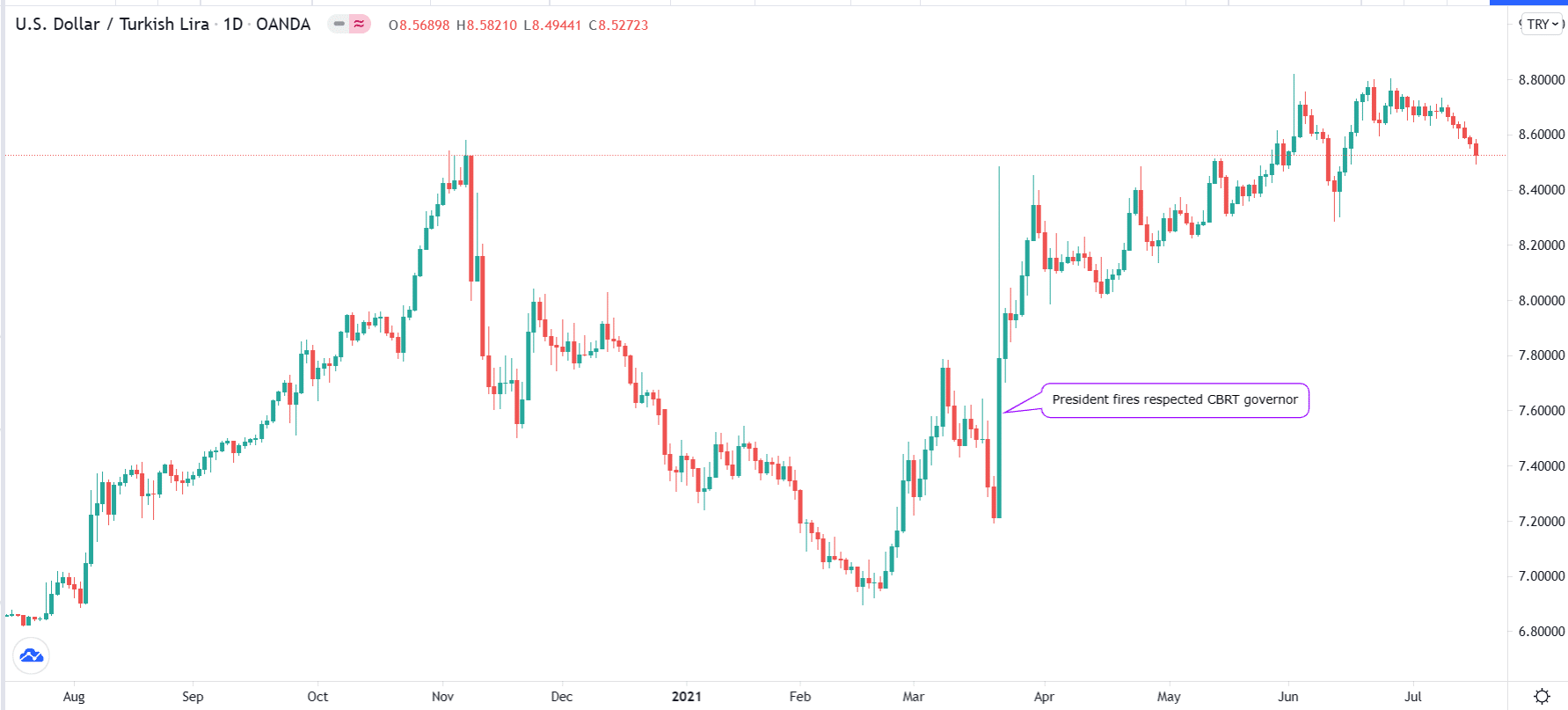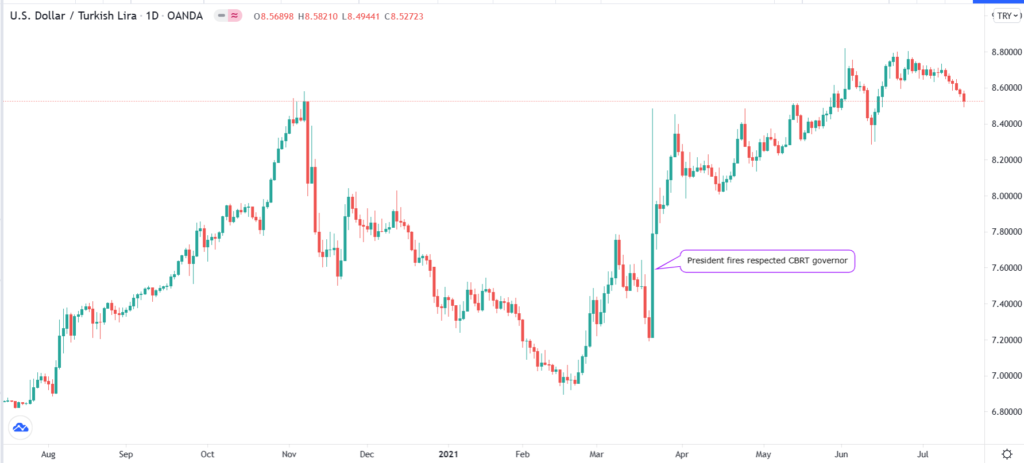 For example, the chart above shows how the USD/TRY pair gapped up on a Monday after President Erdogan fired the central bank governor.
Review technical levels
The next thing we recommend should be done on a Sunday or Friday evening. This is where you identify the key currency pairs that you plan to trade and then identify the key support and resistance levels. You can write these levels down or set alerts on your trading platform.
Identifying some of these levels is relatively easy. For example, you could look at the prior week's high and low points. You could also look at key Fibonacci and psychological levels. Taking note of these levels will help simplify your trading week.
Final thoughts
Being prepared is an important aspect of becoming a successful trader. Studies and my personal experience show that people who are well prepared become better traders. In this article, we have looked at some of the key things you can do between the end and the beginning of the trading week.