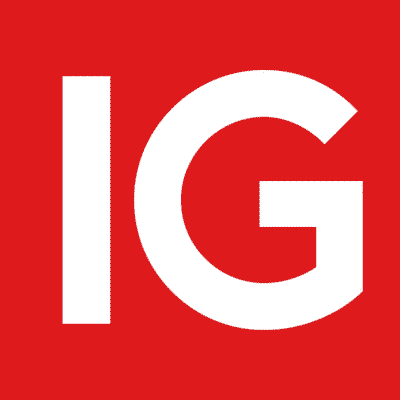 visit broker
Regulated by
Platforms
Founded
Business Model
Headquarters
Min. Deposit
Leverage
Typical Spread
FCA, ASIC, FSCA, NFA, MAS, DFSA, JFSA, FINMA, BMA
1974
Commission, DMA, OTC
MT4, ProRealTime, L2 Dealer
$300
up to 1:200
1.33 pips
UK
We Like:
Well regulated broker
Over 45 years of experience in the financial industry
Trade forex and thousands of other markets in CFDs
Segregation of clients' funds in top banks
Negative balance protection
Around the clock expert customer support
Cutting-edge trading platforms
Ultra-fast order executions
Competitive spreads
We Don't Like:
Commissions on share CFDs
Overnight fees
$18 monthly inactivity fees after two years of account dormancy
Does not serve clients from the USA
High spreads on a spectrum of assets
The Verdict:
IG Markets international Limited and its subsidiaries in 17 different countries around the globe are predecessors of the IG Group Holdings Plc that pioneered in the financial trading industry back in 1974 as a vehicle betting company. The company later transformed its services to financial trading to become the first spread betting broker. It diversified its products and services over the years, winning a portfolio of retail and institutional traders worldwide.
The forty-seven-year-old brokerage company currently runs about seventeen offices under the trademark IG Markets distributed across five continents and claims to serve over 300K clients. It confirms that the clients trade 17,000+ instruments with competitive spreads averaging 1.33 pips and leverage up to 1: 200 backed by real-time expert support.
Company details
The IG Markets brokerage group dates back to 1974, when the parent company, IG Markets Holdings Plc, made its debut in the financial industry as a vehicle betting firm. The company later metamorphosed into a spread betting platform offering an array of instruments and attained a spot among the first dealing desk brokers to pioneer in the trading space.
It now prides itself with over 45 years in the financial trading arena and runs seventeen branches under the trademark IG Markets located across five continents. The head office is headquartered in London, England, and leads the cloud of subsidiaries in serving over 300K retail and corporate clients with 17,000+ tradable instruments. The broker also notes that the clientele speculates on these products as forex and CFDs with competitive spreads and leverage of up to 1: 200.
The assets include:
Forex pairs
Indices
Commodities
Cryptocurrencies
Futures
Options
Shares
With the imprint of a global brokerage company, IG Markets falls under different jurisdictions that ensure the 47 years old broker offers its clients transparent services and tamper-proof security of clients' assets. IG Markets operates under a nine regulatory bodies framework composed of agencies such as the FCA, ASIC, and others, making it safe to trade with. Moreover, it claims to hold clients' funds in segregated banks and also provides negative balance protection. As a result, its clients cannot lose more than they invested.
However, the minimum deposit is capped a bit higher compared to other brokers. IG confirms that the minimum deposit through bank cards is $300. But the amount shaves down to $1 for deposits made as bank transfers. It also notes to cover transaction fees when making deposits or withdrawals for clients except those based in the UK.
Its payment options include:
Credit cards
Debit cards
Bank transfers
HK FPS
After funding, clients speculate on IG Markets' instruments online using its cutting-edge trading platforms. The broker notes to provide three platforms tailored to serve different traders according to their level of trading skills. They include the MT4, the ProRealTime platform, and the L2 Dealer and they all integrate with powerful trading tools to make trading profitable and efficient.
The trading tools include:
Market alert tools
API's
Economic calendar
Trading signals
Algorithmic trading
IG Markets customers have a wide range of trading accounts to choose from. Each account comes with distinct trading conditions that best favor a peculiarity of clients according to their trading ambitions. Some clients aim to mitigate commissions and only incur fees on the market spread, while others want to double earnings by trading commission-based products. As a result, the broker provides multiple account types, such as:
A limited risk account
A standard account
A spread betting account
A swap-free account
A professional account
---
Regulations
The London-headquartered forex and CFDs provider IG Markets is authorized and regulated by nine different reputable regulatory agencies. They consist of both top-tier and two-tier bodies obliged to survey IG Markets activities. Under this stringent framework, IG markets offer its clients secure and transparent services, making it a safe broker to deal with.
IG Markets Limited is regulated by the Financial Conduct Authority (FCA), license No. 195355.
In Australia, it holds license No. 220440, issued by the Australian Securities and Investment Commission (ASIC).
In New Zealand, it holds license No. FSP18923 from the Financial Markets Authority.
The United States branch is regulated by the National Futures Association (NFA) No. 509630.
In Asia, it holds license No. 200510021K from the Monetary Association of Singapore (MAS).
In the UAE, the IG markets subsidiary falls under the Dubai Financial Services Authority (DFSA), license No. F001780.
IG Securities Ltd in Japan is regulated by the Japanese Financial Services Agency (JFSA), license No. 255.
FINMA authorizes IG Bank SA in Geneva.
Internationally, IG markets are authorized and regulated by the Bermuda Monetary Authority (BMA), license No. 54814.


---
Trading platforms
Traders prefer to work with user-friendly, customizable, and fast trading platforms when exploring the financial markets. IG Markets strives to satisfy this need with a portfolio of platforms tailored to serve particular types of clients. This comes about as the broker provides forex and CFDs liquidity services to more than 300K clients.
These include all levels of traders, from novice market lovers to veteran speculators, and IG offers platforms best fit to each group. As mentioned, they include the MT4, its proprietary trading platform — ProRealTime, L2 Dealer, and a spectrum of other versions based online, on the phone, and on the web.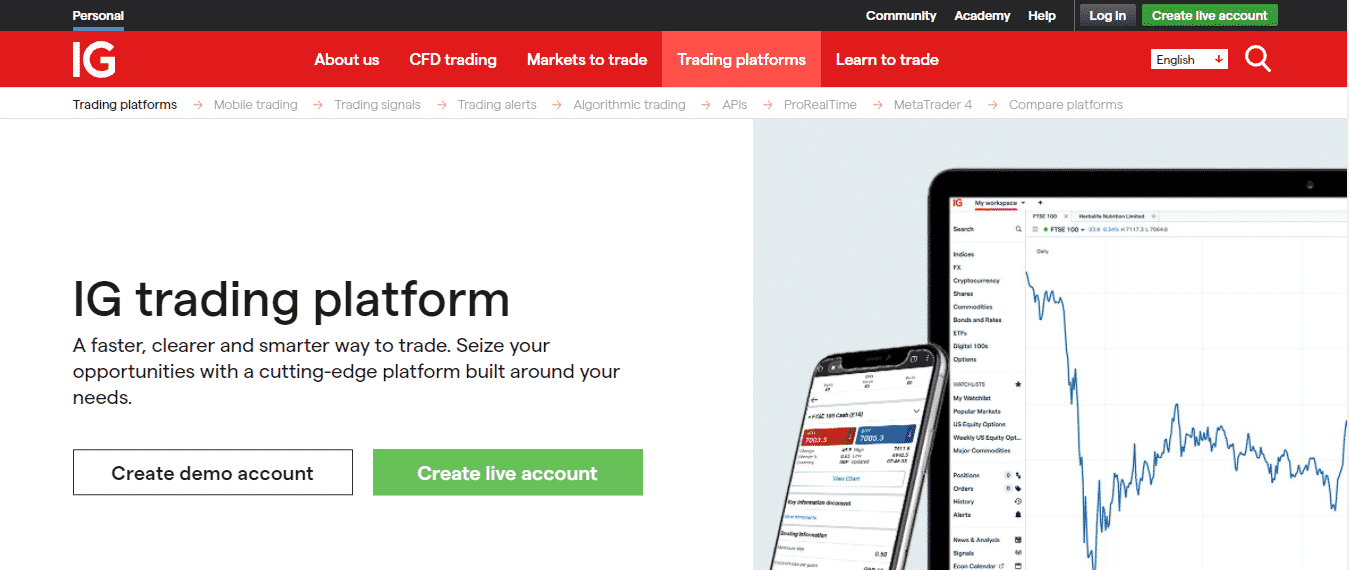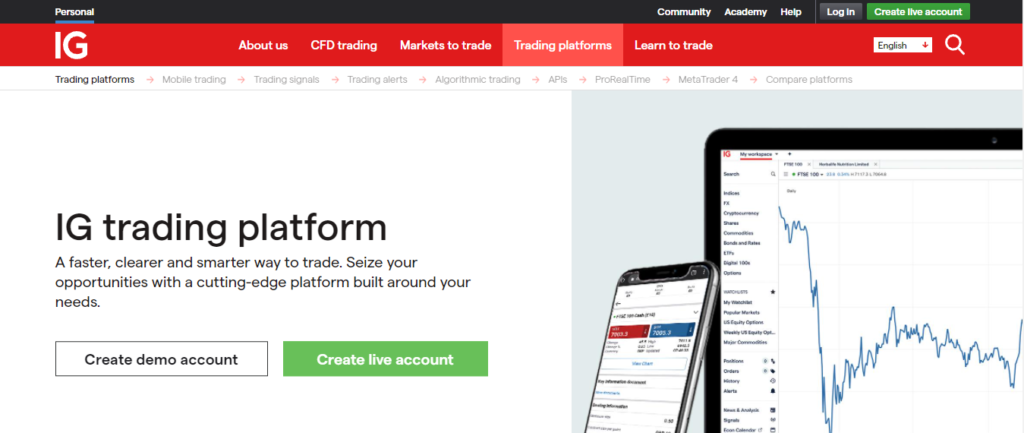 ProRealTime platform


Desktop accessibility — download
Mobile accessibility — no
Suitability — technical chart users
Platform costs — $40 per month
Exchange fees — monthly fees for certain exchange stock feeds on a CFD account
Available products — CFDs
Tradable markets — All apart from DMA and sprints
Reuters news — no
Monitoring tools — proScreener, Alerts, among others, and automated trading
Charts — advanced ProRealTime charts
Trade from charts — yes
Price movement — yes
DMA — no
Order types available — yes
Automated trading strategies — yes
MetaTrader 4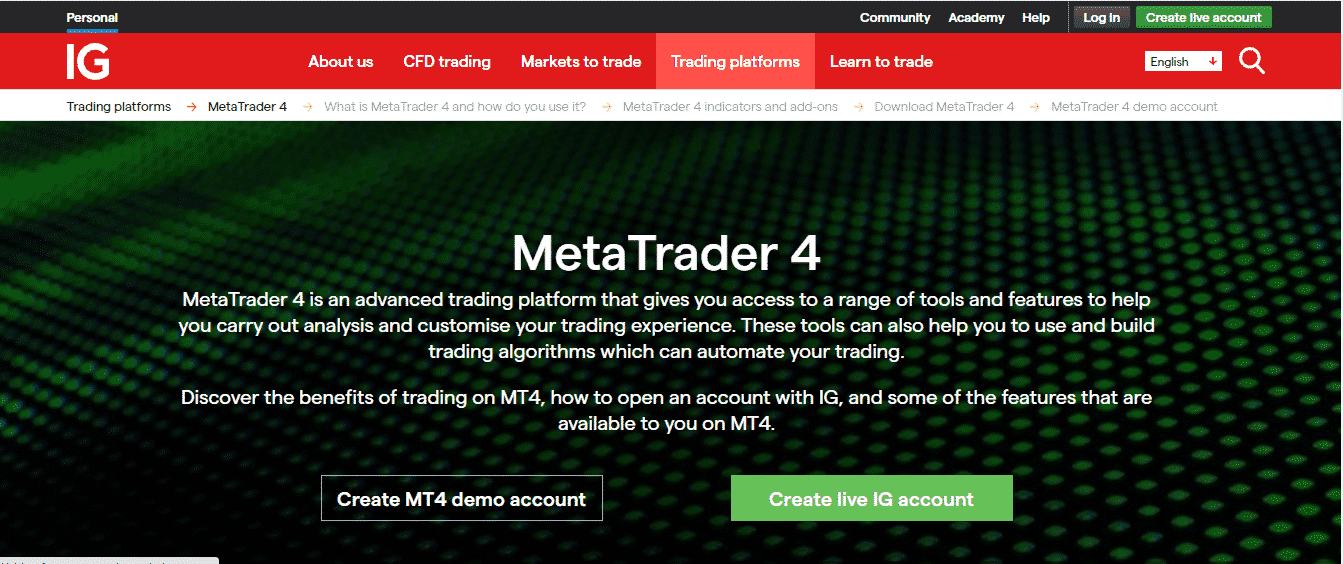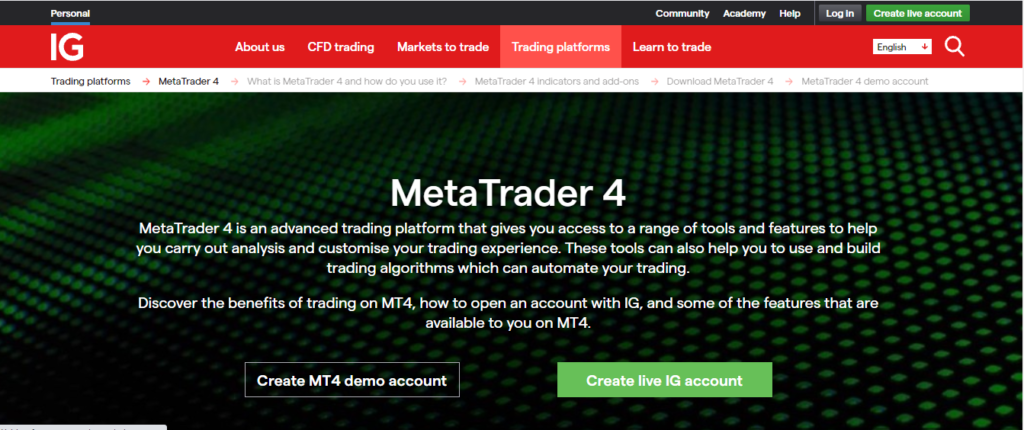 Desktop accessibility — download
Mobile accessibility — yes
Suitability — forex specialists
Platform costs — free
Exchange fees — none
Available products — CFDs
Tradable markets — forex, indices, oil, and major metals
Reuters news — no
Monitoring tools — automated trading
Charts — advanced MT4 charts
Trade from charts — yes
Price movement — yes
DMA — no
Order types available — yes
Automated trading strategies — yes
L2 Dealer Platform
Desktop accessibility — download
Mobile accessibility — no
Suitability — advanced share traders
Platform costs — free, but a minimum of $2000 balance is required
Exchange fees — monthly fees for shares data and level two prices
Available products — CFDs
Tradable markets — DMA forex and shares, OTC forex, shares, indices, and commodities
Reuters news — yes
Monitoring tools — Algorithmic orders, watchlists, and customizable alerts
Charts — ProRealTime access
Trade from charts — yes (through ProRealTime OTC only)
Price movement — yes
DMA — yes, FX and shares CFDs only
Order types available — yes
Automated trading strategies — no
N/B: these platforms are best suitable for market specialists. The broker provides platforms tailored to serve other sorts of traders in versions such as online, mobile, and web. Unlike on the specialists' platforms, IG markets do not charge platform costs for these platforms.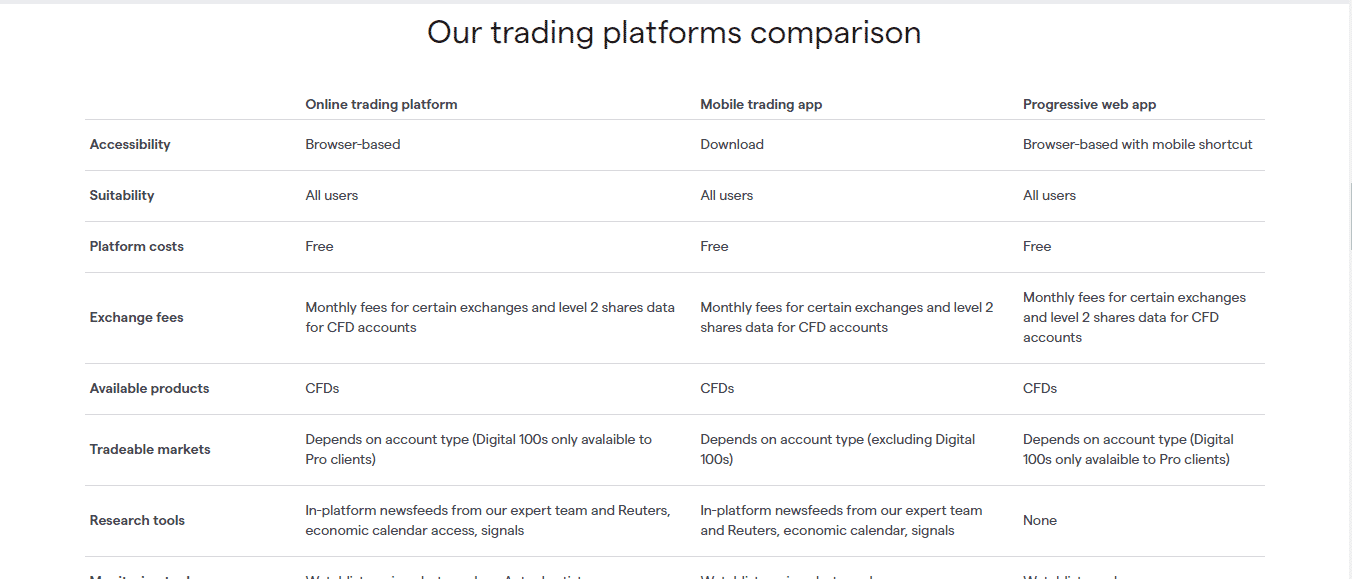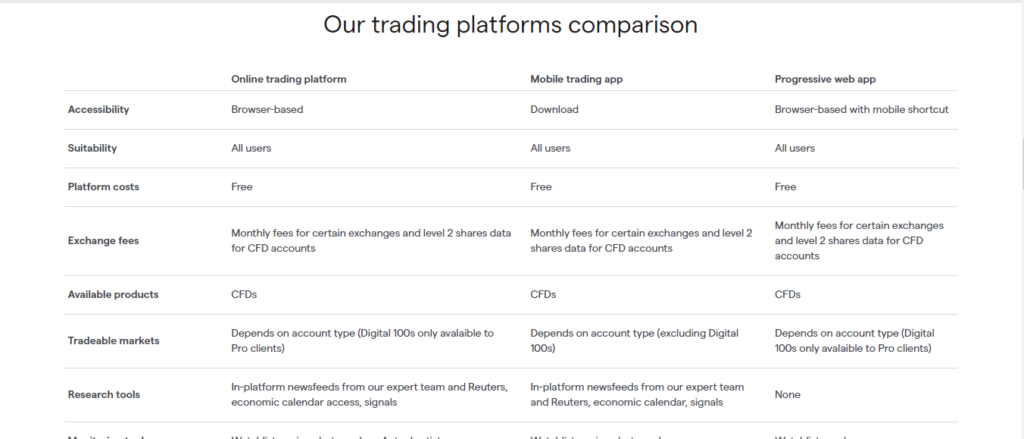 ---
Range of markets
IG Markets prides itself as the number one CFDs provider citing to offer more than 17,000 tradable markets in CFDs coupled with forex trading. The products trade backed by available expert support with competitive spreads averaging 1.33 pips and maximum leverage of 1:200. As indicated, they include forex pairs encompassing significant, minor, and exotic currency pairs, a wide range of global indices trading 24/7, over 13,000 shares, commodities, and a spectrum of cryptocurrencies.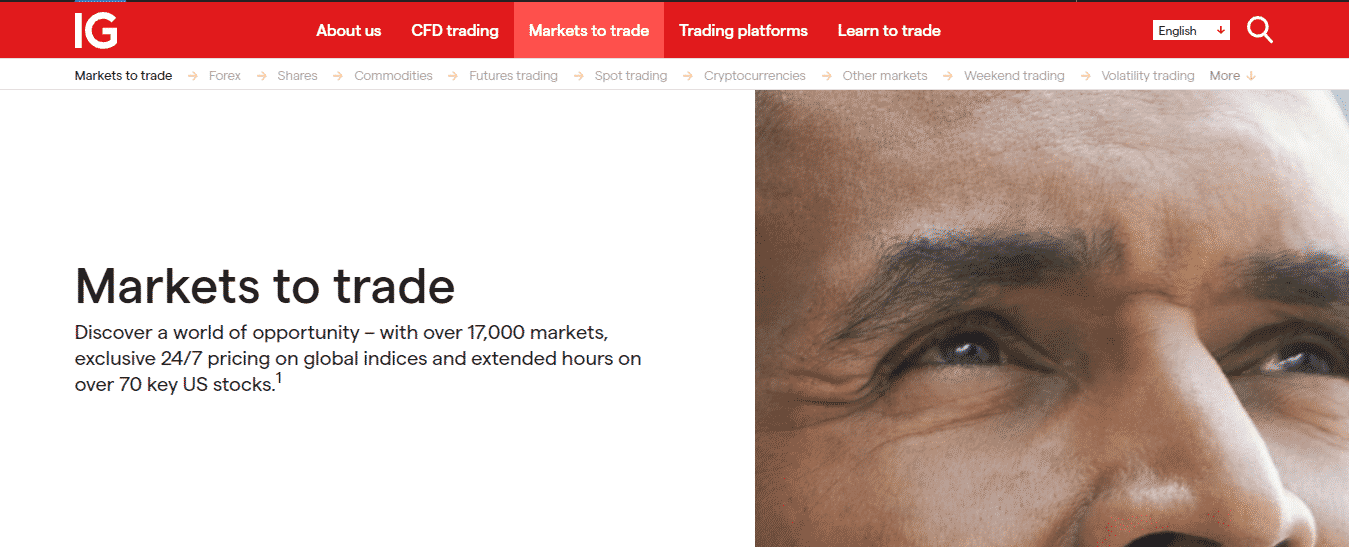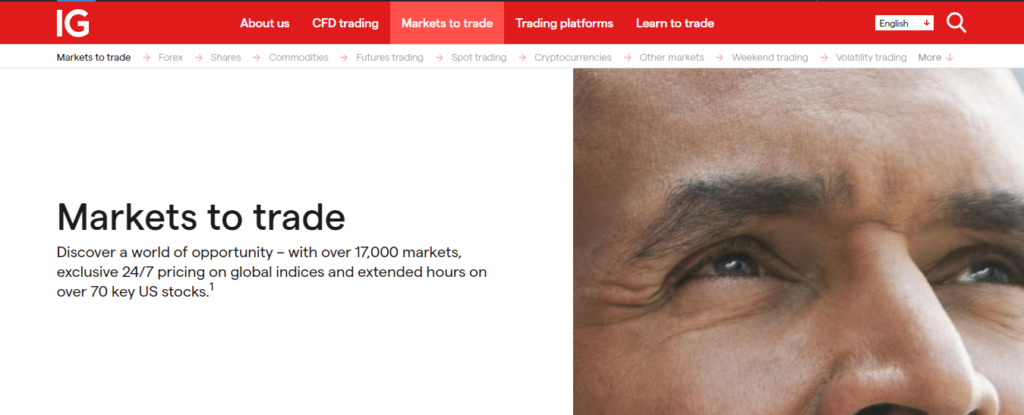 Forex
The forex market trades from Monday to Friday at IG Markets aided by full expert support. It holds pairs such as EUR/USD, AUD/USD, and others that trade with a floating spread from 0.6 pips to average around 1.33 pips. Moreso, when trading forex CFDs, the broker provides a retail margin of 0.5% on most of its currency pairs, meaning you can gain or lose such a percentage amount from your initial deposit. Also, the leverage extends up to 1:200 for all pairs except USD/CHF as it goes up to 1:67.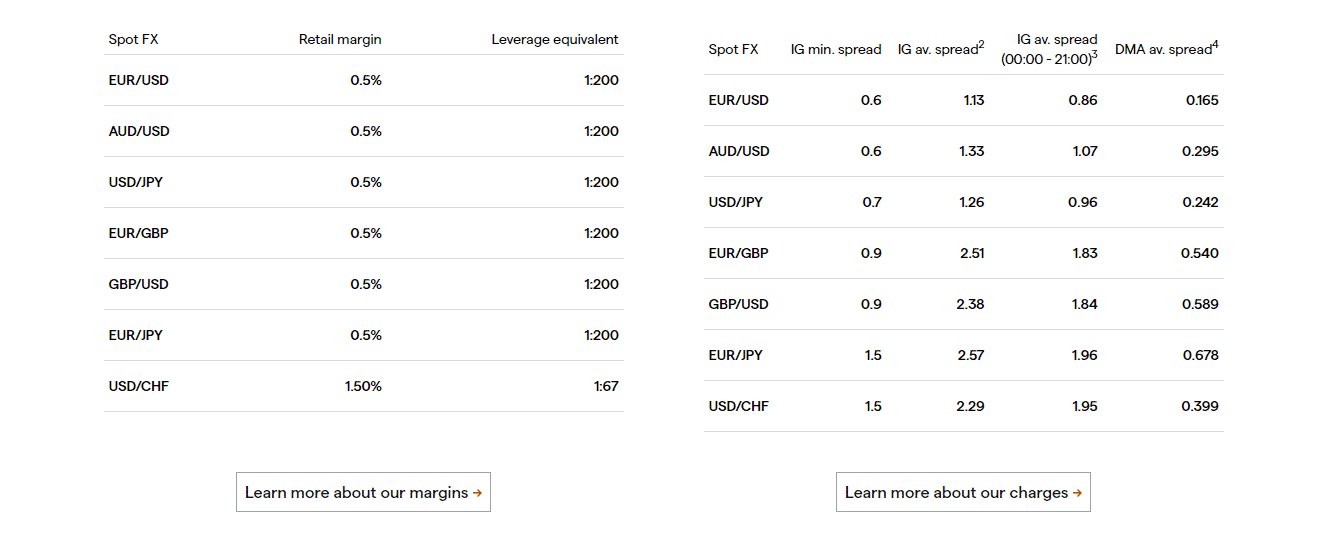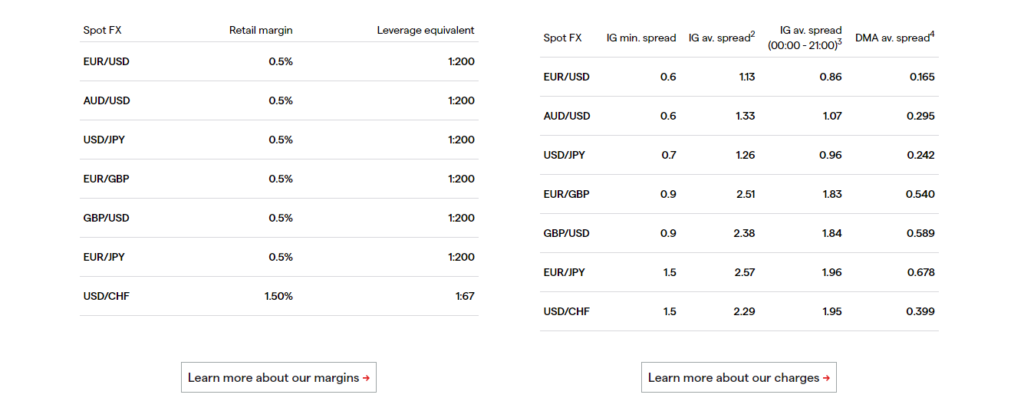 Shares
IG Markets offers a variety of shares from popular companies that traders can speculate as CFDs allowing them to go long and short and have the hedge even when the markets go down. The market holds shares of companies from the US, UK, Asia, among other regions, traded as stocks when put together. The instruments' speculation starts Monday through Friday, cushioned with competitive spreads and leverage of up to 1:200. However, they also attract fees such as commissions, overnight funding fees, among others.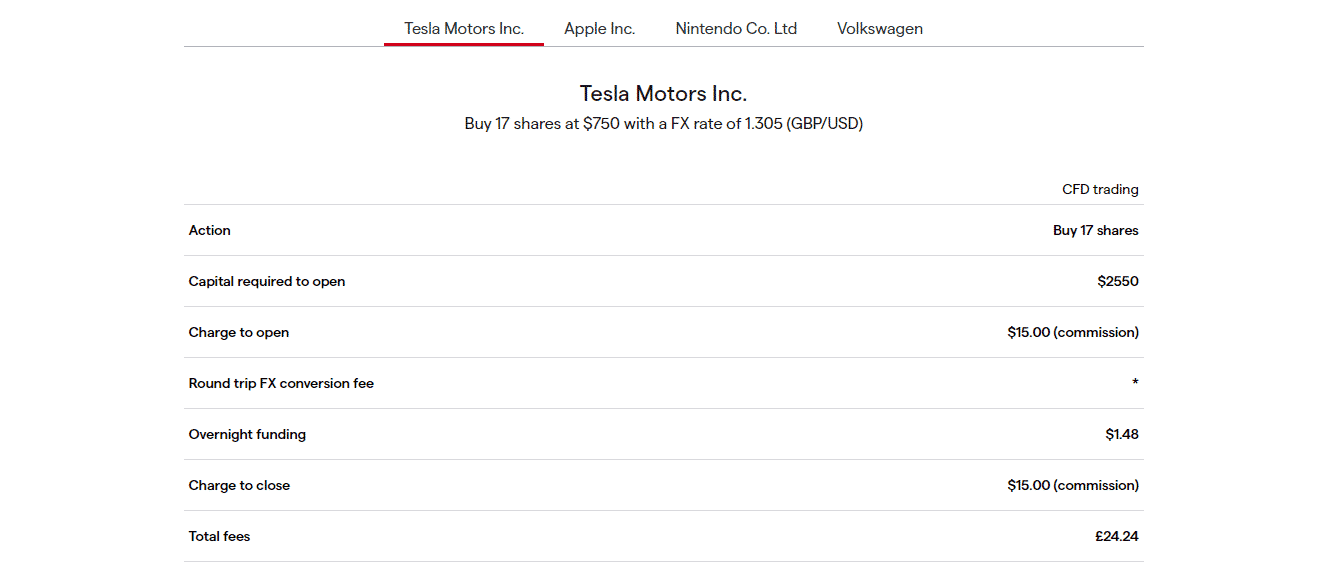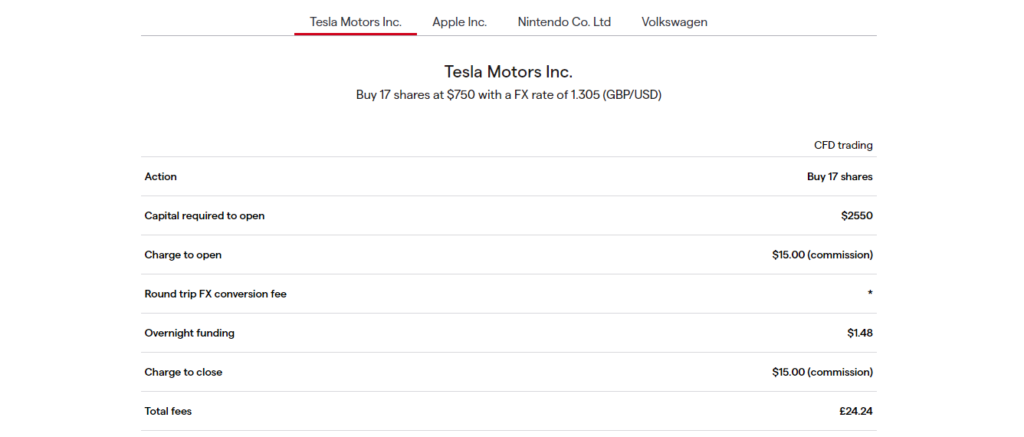 Commodities
A variety of commodity assets trade at IG Markets through weekdays as CFDs. The broker cites that its commodity basket holds products such as Energies, Metals, and Soft commodities. The array of energies consists of Brent Crude oil, US crude, London Gas oil, Natural gas, and others, while Metals available include Palladium, Iron Ore, and High-Grade Copper.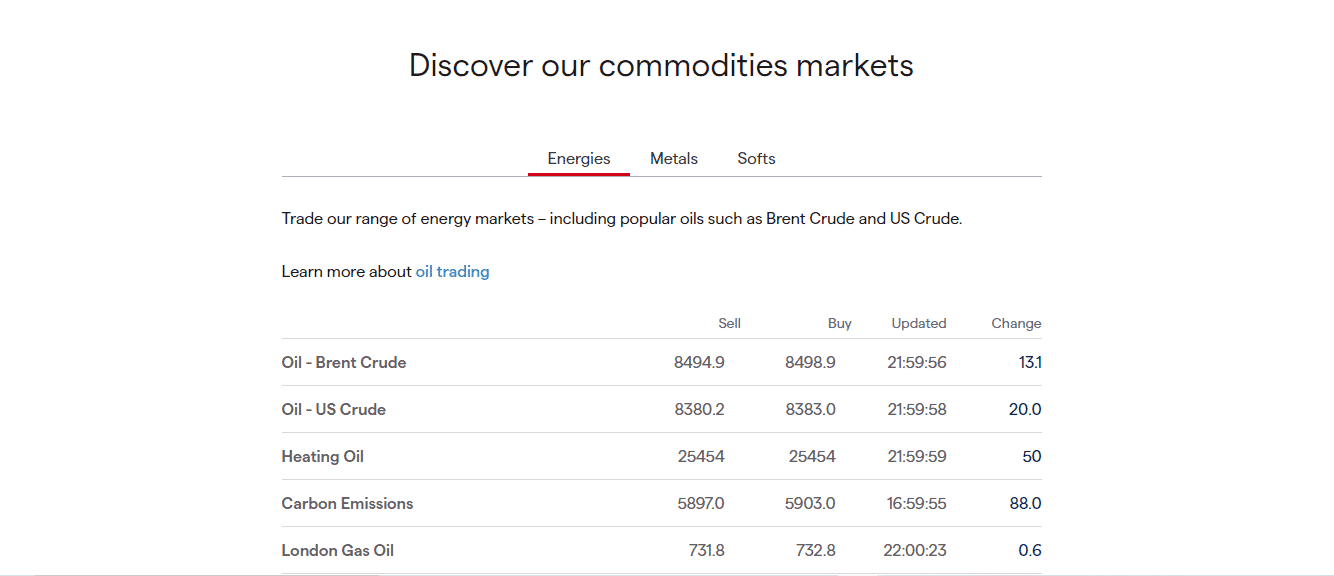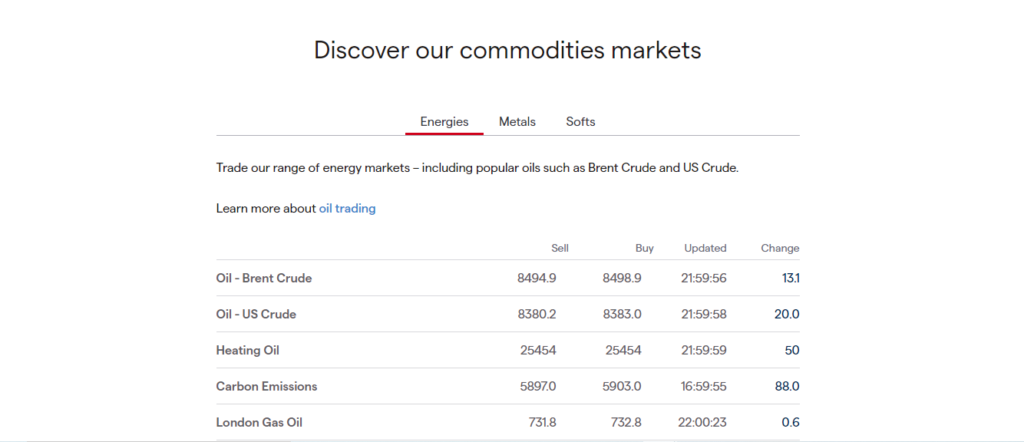 Futures
IG Markets offers futures in indices, commodities, and Bonds. Futures are instruments traded at an agreed time frame with a predetermined price. The products trade from Monday to Friday, backed by expert support and competitive leverage.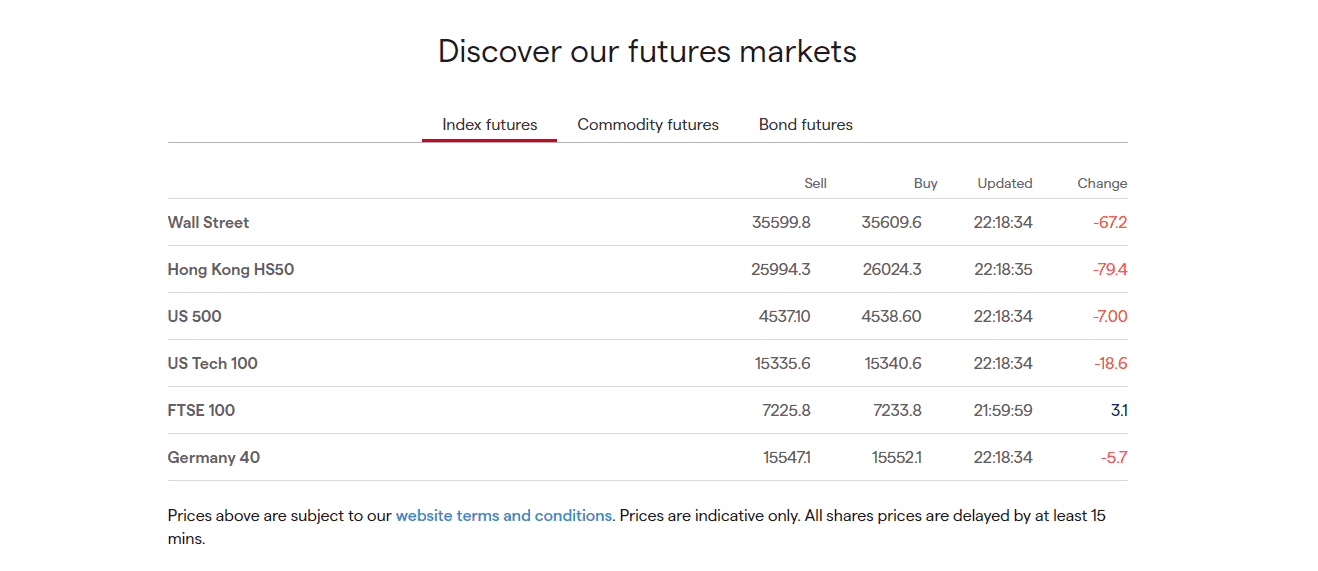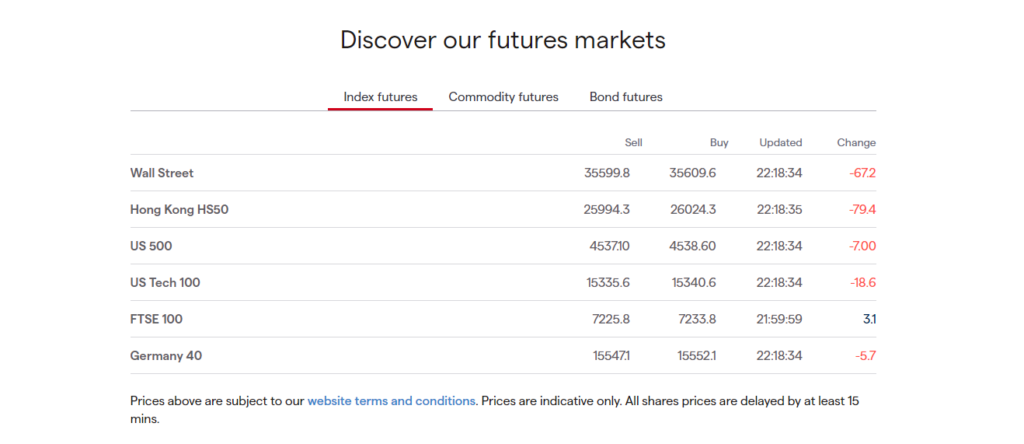 Cryptocurrencies
IG Markets allows clients to speculate on the prices of the world's most volatile market assets with retail margins of 5% on Bitcoin and Ethereum and 10% on the rest of the cryptos. Altogether, the cryptocurrency market at IG holds about seven digital assets that the broker cites to trade with competitive leverage.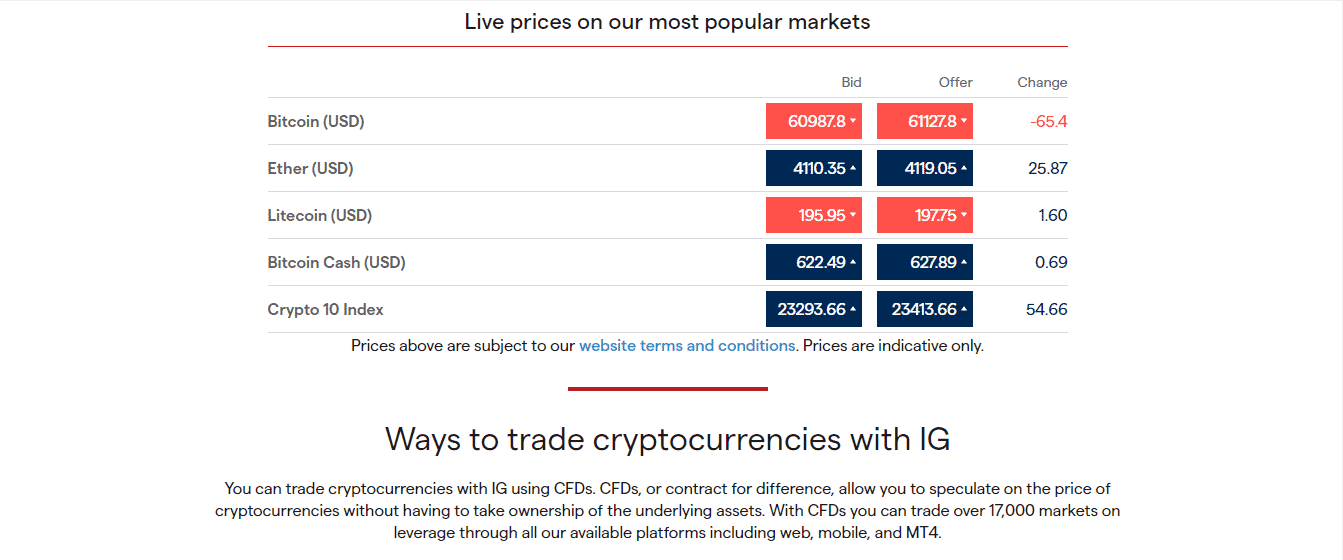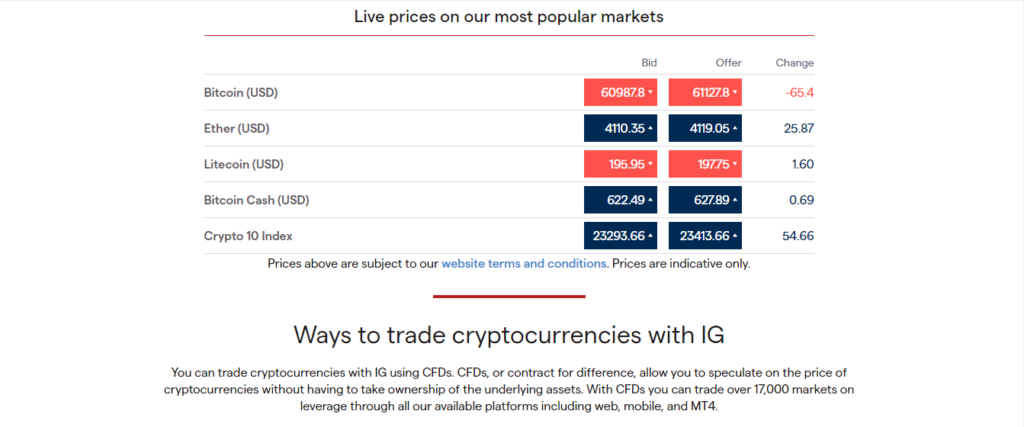 Other markets
IG also offers a stream of other markets that include spot trading, ETFs, bonds, options, among others.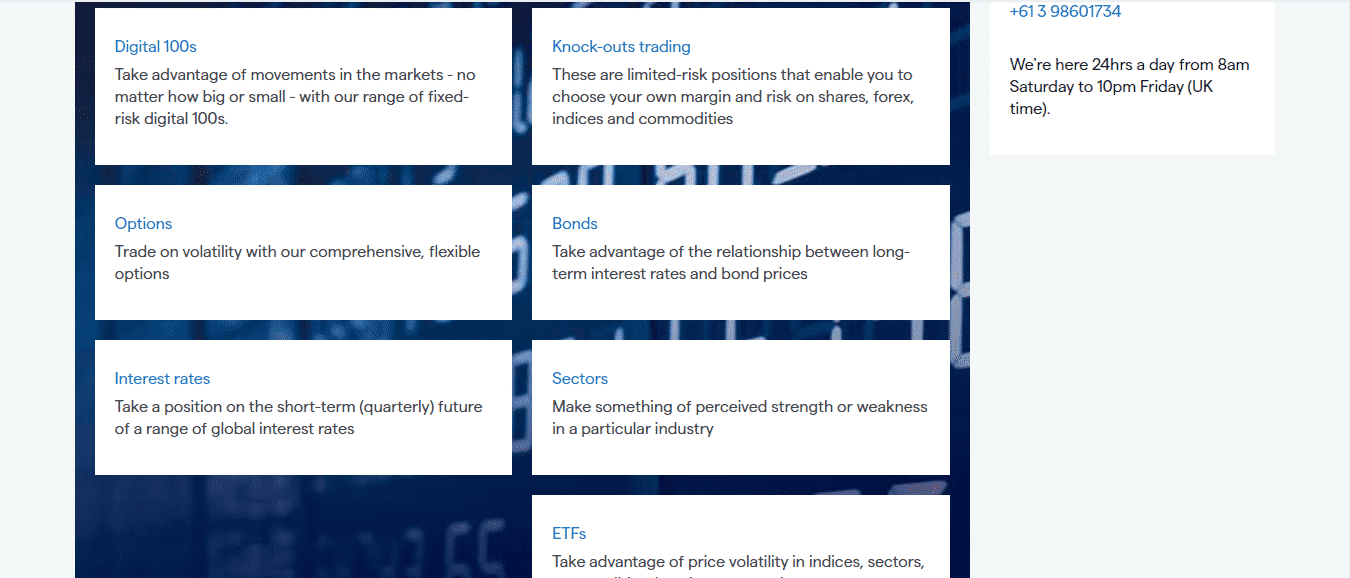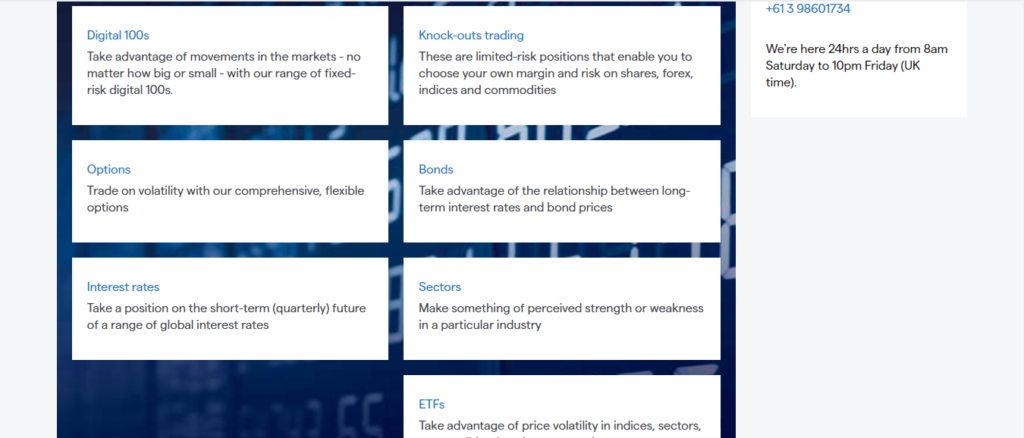 ---
Main features
So far, we have come across most of the broker's main features bolstering its services. In summary, IG Markets supports the following features:
Provides competitive spreads — the broker notes to offer tight spreads starting from 0.6 pips to average at 1.33 pips, meaning it charges a lower commission on the spread than other brokers.
Provides cutting-edge platforms — IG Markets' trading platforms come in different versions that can operate on the web, phone, and desktop. Moreover, the trading platforms integrate with trading tools such as API for effective trading. Nonetheless, IG tailors the platforms to serve different types of clients.
Diverse markets — IG claims to provide over 17,000 tradable markets as CFDs coupled with forex trading giving traders the ability to diversify their portfolios.
Solid regulation and good reputation — as we have unpacked, IG lies on a nine regulatory bodies framework made up of top-tiers, two-tiers, and other legitimate agencies. In addition, the broker holds a track record of 47 years in the trading industry.
Around-the-clock customer support — it also claims to provide full support to its clients in real-time through phone calls, emails, and chats.
---
Types of trading accounts
As introduced in this review, IG Markets offers multiple account types suited for particular clients. These include live accounts and a demo account that best comes in handy for novice traders.
The Standard account
Available internationally — yes
Negative balance protection — yes (for EU/UK clients)
Minimum deposit — $250
Trade over 17,000 markets — yes
Minimum spreads — 0.6 pips
The Limited risk account
Designed for non-EU/UK clients not eligible for negative balance protection
Trade range of low-risk markets — yes
Guaranteed stop losses — yes
Benefit from a negative balance protection mechanism — yes
The Spread betting account
Place spread bets on 17,000+ markets — yes
Spreads starting from — 0.1 pips
Commissions on CFDs — yes
The Options trading account
Only available for EU clients — yes
Trade options on a wide range of assets — yes
Benefit from a fixed amount loss on CFDs — yes
Good for new traders — yes
The Turbo24 trading account
Considered as a European alternative to spread betting
It also shares similarities with options
Product traded is referred to as — turbo warrant
Best for expert traders
Only available in — Germany, France, Spain, Italy, Sweden, Netherlands, and Norway
The Share Dealing account
Only for buying and selling stocks, ETFs, and other investments
Trade more than 10,000 shares — yes
Commissions start from — $3
Not available in all regions but in the UK and Australia
The Swap-free account
No rollover fees derived from interest rates
Available to traders registered under the UAE entity
Also accepts UAE outside clients but must sign using the IG Markets UAE subsidiary
Offers limited assets
Other fees may apply
The Professional account
Access to higher leverage and restricted products
No negative balance protection
Increase your leverage up to 1:222
Qualifications needed
Make ten significant size transactions per quarter in a year
Have a financial instrument portfolio of over 500,000 euros
Have experience in the financial services sector
---
Opening an account at IG Markets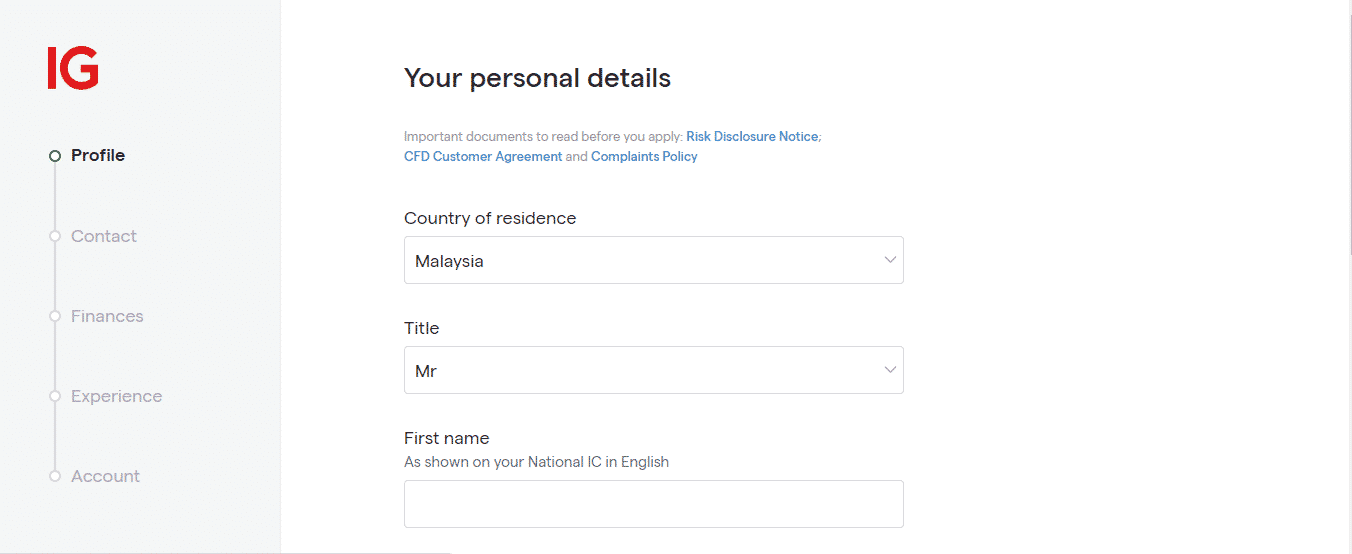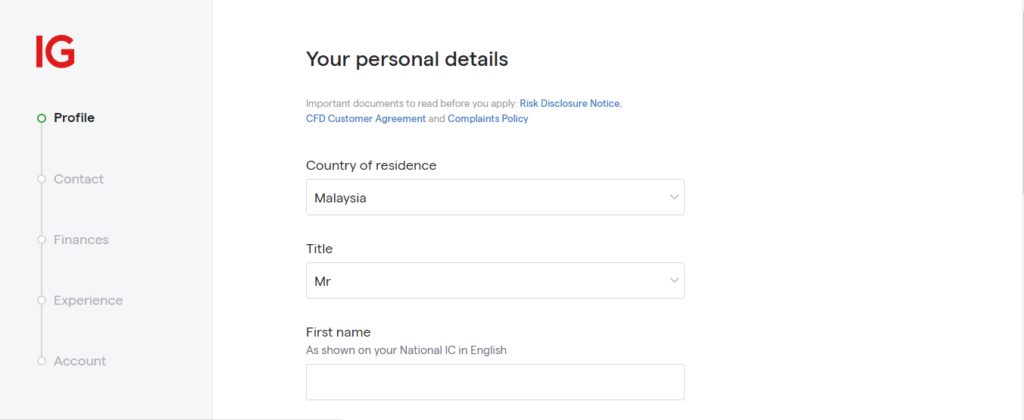 The account opening process is relatively fast and involves the following steps.
Step 1: Log into their website and click the create live account button.
Step 2: Fill in your personal details.
Step 3: Provide your contact details.
Step 4: Fill in details about your finances.
Step 5: Choose your experience level.
Step 6: Select an account type and verify.Step 7: Fund your account and start trading.
---
Commissions and spreads
IG Markets operates as a spread betting broker and includes commissions and other fees on some assets such as share CFDs depending on the account type. It offers a floating spread starting from 0.6 to average around 1.33 pips meaning the broker adds fees on the market spread. In addition, it also adds commissions, rollover fees, and overnight fees, depending on the account type. Clients also face inactivity if their account goes for two years without any trading activity.
---
Customer service
IG Markets boasts of providing award-winning customer support that attends to clients around the clock in multiple languages. Customers contact the support team through calls, emails to the helpdesk, live chats, and access a wide range of materials provided at the "learn to trade" section. The resources acquit clients with relevant information before they reach out to the support and also help boost their trading skills.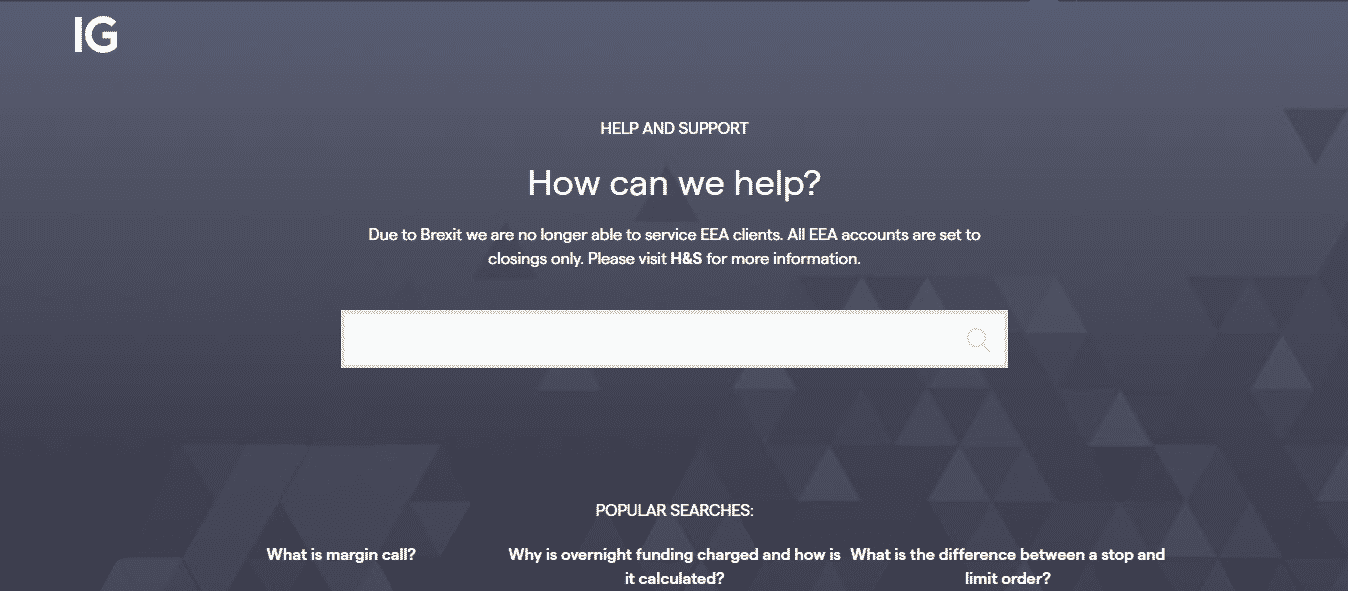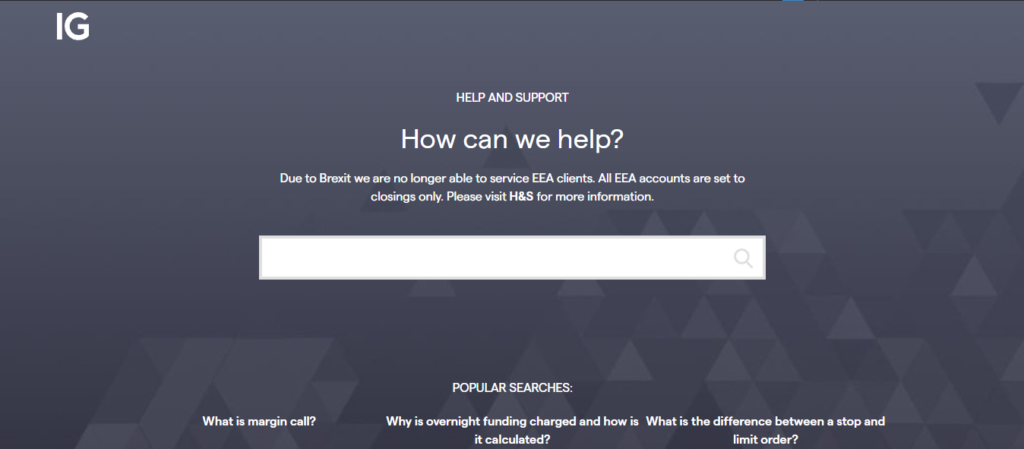 ---
IG Markets Review
What we liked
Tight spreads
The competitive broker features such as cutting-edge trading platforms
No deposit fees
Segregation of funds
Easy account opening
Well regulated broker
What we disliked
No copy trading
Commissions on share CFDs and other assets
Not accepted in the USA
Limited payment options
Inactivity fees
Negative balance protection to peculiar clients
High minimum deposit
The broker's official website fails to provide enough information on account types
The trading platforms information on the website may be confusing to a newbie
The bottom line
With the milestone of being among the first spread betting brokers to pioneer in the trading industry, IG Markets prides itself with 45+ years of experience offering FX and CFDs trading services on a wide range of markets. The liquidity provider claims its array of markets holds over 17,000 products and has attracted 300K+ online and retail clients from around the globe.
However, the downside is that some assets, especially share CFDs, trade with commissions, and the broker's official website is not well detailed and structured. The broker fails to provide the account type features comparisons. This might deflect potential leads looking to join the IG Markets' empire as most people prefer to understand the account type to sign for before opening it.