Brazil is expected to emerge from the high volatility witnessed in 2020.
The push by the mining company Vale towards green energy may attract additional US trade.
Decreased interest rates have weakened the real against the dollar.
The Brazilian real strengthened by almost 10% against the US dollar in the 52-week range analysis. The US dollar gained 7.8% from December 10, 2020. The trading pair settled at 5.4104 as of February 2, 2021, from a low of 5.0196. The real entered 2021 with a hot volatility mix as the volume of retail sales in November 2020 fell by 0.1% from October 2020. Despite an increase in inflation at 4.3% YoY, Brazil's Central Bank (BCB) kept its interest rates at historic lows of 2%. However, the real positive performance in February 2021 means that investors are upbeat about the real performance against the dollar in 2021.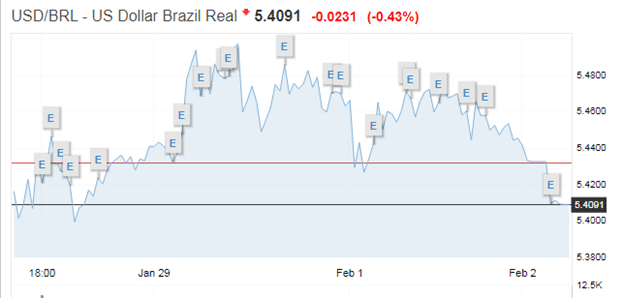 Constant interest rates
While interest rates are likely to remain constant in 2021, the rates may be raised to 2.5% by 2022. According to the Monetary Policy Committee of Brazil (COPOM), despite the 0.8% gain in the country's 4.5% GDP decline, it was still improbable to recover 2020 losses. The committee aims to increase fuel and food prices to promote consumer spending in 2021. Interest rates fell from a high of 13% in 2017 to a severe low of 6.5% in March 2018. The real held the dollar at a 5-year low of 3.1259 on July 1, 2017, indicating intense economic activity despite a rise in the interest rates.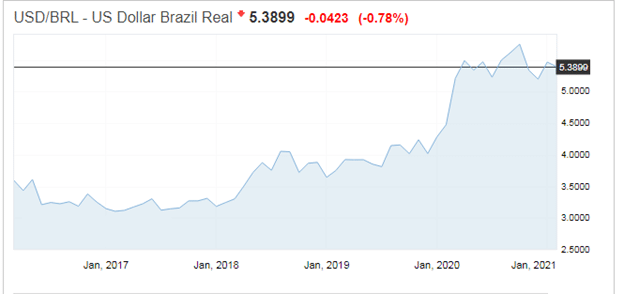 At the moment, we see that a decrease in interest rates in Brazil strengthens the dollar and weakens the real.
Sales
Retail sales in Brazil dropped 0.1% in November 2020 to end a six-month run from May 2020. The pandemic's onset saw a rise in inflation that lowered supermarket sales, especially in March and April 2020.
Brazil is hopeful of securing a broad free trade agreement with the newly installed Biden administration. Mining giant BHP (headquartered in London) has increased its production forecasts for iron ore in its Brazilian Samarco mine. BHP had stopped production in the area in November 2015 after the tragic collapse of two dams. Samarco's iron ore production targets in 2021 are expected to range from 245-255 million tons.  
In line with Biden's regard to climate change, Vale – Brazil's biggest miner, is expected to invest $2 billion in a carbon reduction program. A total of $500 million will put up a solar power scheme with a peak plan capacity of 766 megawatts (MWp). Dubbed the Sol do Cerrado, the project will start operation in the fourth quarter of 2022 with an annual average production of 193 MWp. It is expected to meet up to 13% of energy demand by 2025.
As of 2019, Brazil was ranked 14th largest trade partner with the US exchanging goods worth $105.1 billion. The trade surplus was $29.8 billion (exports at $67.4 billion and imports at $37.6 billion). Top imports from Brazil included mineral fuels ($5.2 billion) and iron/steel ($3.4 billion).
Technical analysis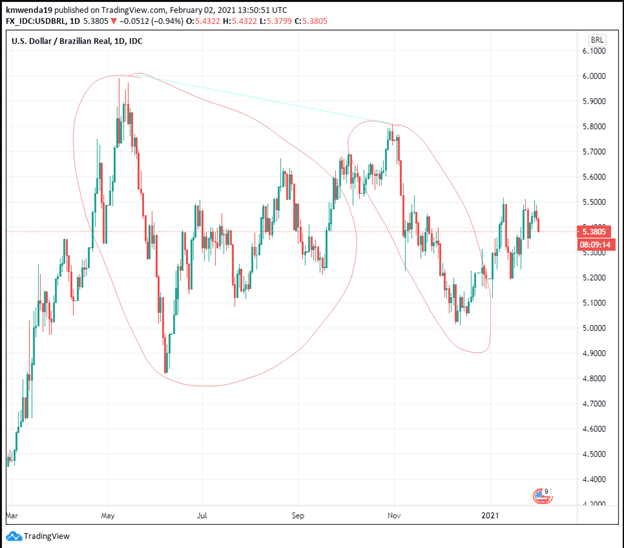 The USD/BRL trading pair moved towards a decrease in the volatility region with the 14-day average true range (ATR) at 0.0256. The 14-day RSI shows investors' increased selling activity at 31.632 and the stochastic RSI at 0.000 (an oversell). The 100-day SMA supports a sell position at 5.3942 and EMA at 5.4069.
Brazil's GDP is projected to expand 3.6% despite the spread of the coronavirus and rising unemployment. A decrease in economic activity may, however, lower output and strengthen the dollar against the real.