S&P raised Mexico's rating as Banxico lifted the key rate to 4.25%.
Mexico's CPI (including food and energy) rose 0.34% in the first half of June 2021.
Positive US personal income data may push the dollar if it crosses the forecast at -2.5%.
The USDMXN pair lost 1.65% on June 24, 2021, from the previous day. It hit a high of 20.2170 and traded at a low of 19.7150 after opening at 20.1935. The Mexican peso gained against the US dollar after a 0.35% increase in the first half of June 2021 core CPI (excluding food & energy prices). It beat estimates at 0.21% and rose from a previous record of 0.33%.
The CPI (including food and energy) in the first half of June 2021 rose 0.34% from a previous decline of -0.01%. It beat estimates at 0.20%. Standard & Poor's (S&P, a US rating agency) raised its growth forecast for Mexico to 5.8% in 2021 and 2.9% for 2022. This estimate was based on a resurgent US economy that was dependent on Mexican exports and remittances. 
In terms of foreign currency, S&P rated Mexico as BBB and BBB+ in local currency due to the successful implementation of macroeconomic measures that stabilized the nation's debt. Mexico kept its debt ceiling at 48% of the GDP in the FY 2020/21.  
Growth forecasts
Mexico's Central Bank (Banco de México) raised its bank rate to 4.25% in response to the inflation surge. The bank targets inflation at 3% (+/-1%) to be realized in Q3 2022, given that the current trend is termed transitory. It had not raised the repo rate since 2018 when it raised the rate to a high of 8.25%.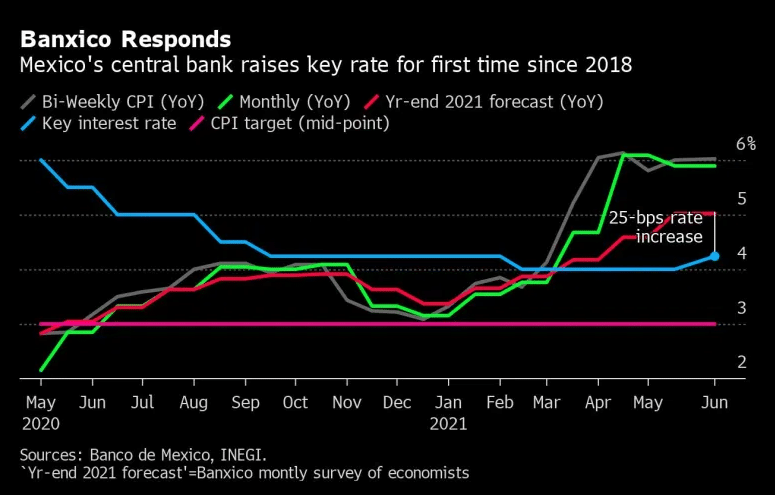 Mexico's Central Bank key rate trend  
The bank was expected to hold interest rates at 4%, but the rate increase by 25 basis points may likely lead to a continual increase into 2020, given the rising CPI. It also projects a 6% economic growth for Mexico in 2021, given the successful implementation of the austere policy. There may be an increase in the key rate by another 25 basis points towards 2022.  
Consumer prices in Mexico (on seasonally adjusted annual rate) rose 6.02% into June 15, 2021 (+100%), more than the target set by Banxico (Mexico's Central Bank). There is renewed optimism that the economy will grow towards pre-pandemic levels in the third and fourth quarters of the year.    
Mexico's unemployment rate fell to 4.00% in May 2021 from the previous reading of 4.70% in April 2021. Subsequently, the employment rate surged to 96.01 in May 2021 (MoM) from 95.35% in April 2021. 
Mexico's employment rate
The rate reached its record high in December 2021 at 96.1971 and is expected to increase in Q3 2021.
US personal income data
Positive personal income data may push the dollar against the peso if it crosses the forecast at -2.5%. Personal income had previously declined by 13.1% in April 2021 (MoM) as consumers weighed in on inflationary pressures. 
When measured by state, there was a 59.7% (YoY) increase in personal income following a decline of 3.9% in Q4 2020. The State of Mississippi had the highest surge of personal income in Q1 2021 at 89.3% against 31.1% in DC due to the rise in transfer receipts. 
Personal spending data for May 2021 (MoM) will also tilt the strength of the data from a forecast of 0.4%. The data is scheduled for release on June 25, 2021, by the Bureau of Economic Analysis (BEA). 
Technical analysis
The USDMXN pair is moving below the 9-day EMA at 20.1380. We may see the downtrend reversal as the price moves upwards, towards 20.2249.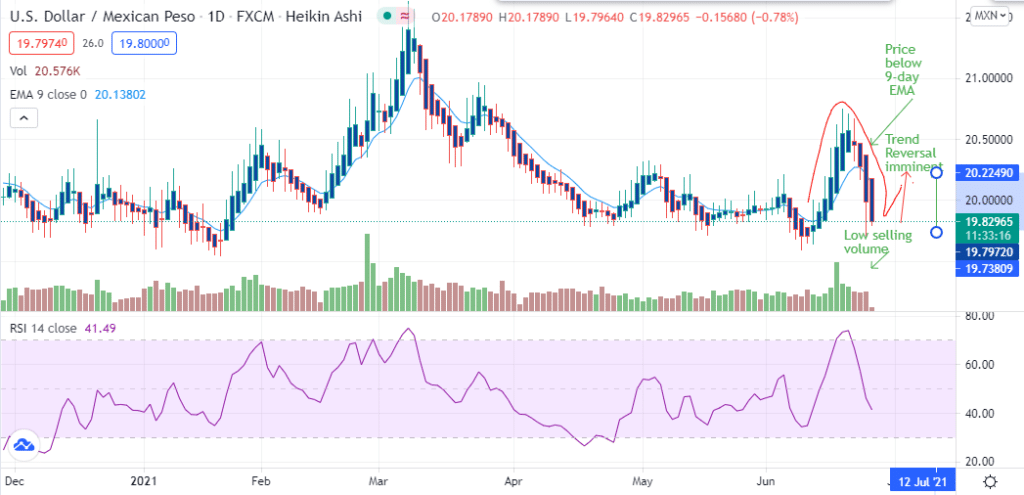 There is low selling volume that can shift into bullish strength. However, the 14-day RSI suggests a low bullish momentum at 41.49 (close to the oversold zone at 30.00). The price may continue to decline to 19.7381.