A double grid strategy is a popular trading strategy for trading directionless volatile markets. The strategy is somehow similar to hedging as traders or forex robots use two different types of grid at the same time.
Just as is the case with scalping, the dual grid strategy allows traders as well as FX EA to take advantage of whichever direction the price is moving. In this case, traders and automated trading systems can be both long and short at the same point as this is a directional up grid system combined with a directional grid downward.
In most cases, there is usually an open position in the direction of the trend, and another position opened against the trend. For this reason, a double grid system is often referred to as a bi-directional system of trades.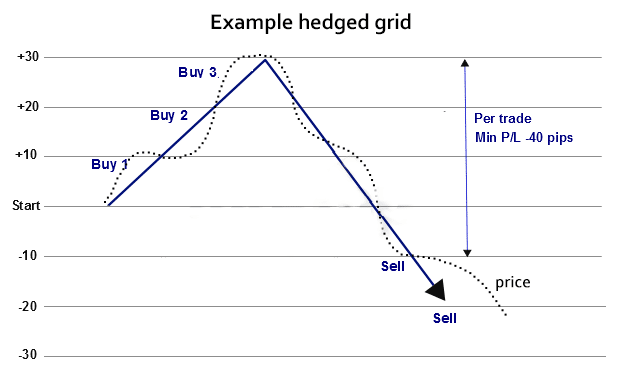 The fact that traders or algorithmic FX trading system can open a position in either direction with the strategy makes it market neutral. Likewise, an automated FX trading system, as well as technical traders, doesn't need to forecast the underlying trend as profits can be generated in either direction that price is moving.
Careful management of profits and losses is a money-making hack with a double grid system. Failure to do so can result in losses increasing exponentially whenever there is a strong rally on either side. As one of the most important forex trading secrets using this strategy, it is essential to use stop-loss orders in a strongly trending market
Double Grid Strategy Example
It is important to note that grid trading involves traders as well as other forex trading instruments opening positions, not in one go but a sequence of orders. The orders, in this case, are entered as stop or limit orders around the current price
For instance, consider GBP/USD trading at about 1.2500. The double grid order book will look as shown below.
| | | | |
| --- | --- | --- | --- |
| Order | Entry | Order | Entry |
| Buy Stop | 1.2562 | Sell Limit | 1.2559 |
| Buy Stop | 1.2547 | Sell Limit | 1.2542 |
| Buy Stop | 1.2530 | Sell Limit | 1.2517 |
| Buy Market | 1.2508 | Sell Market | 1.2496 |
| Buy Stop | 1.2490 | Sell Limit | 1..2487 |
| Buy Stop | 1.2479 | Sell Limit | 1.2467 |
| Buy Stop | 1.2467 | Sell Limit | 1.2456 |
A closer look at the grid above, it is clear that it is a combination of two grids, one representing a hedged grid and the other grid acting as an inverted or hedged grid. The grid above is simply a single up system whereby trades are open into the trend in this case as well as against the trend on the downside. The grids, in this case, are mirrors of each other
Trades are executed immediately; the price rises or falls to the designated price, point as shown in the grid. For instance, when the price is moving up, stop orders will execute once the price rises above the designated price points. Buy limit orders, on the other hand, will execute as soon as the market goes below the current level.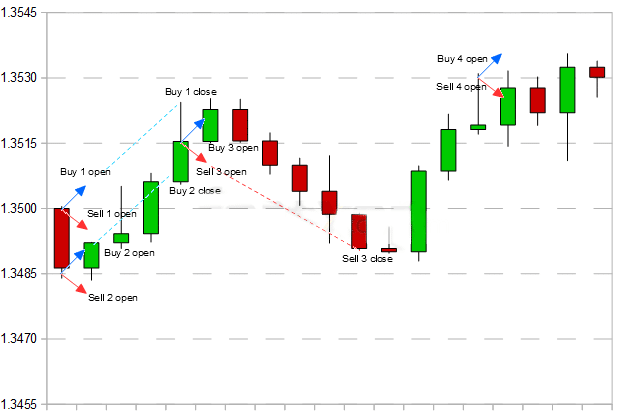 Similarly, sell orders also execute automatically. Sell limit orders will come into play as soon the market rises above the set price points. Sell Stops, on the other hand, would be triggered as quickly as the price market falls, as shown in the chart above.
How to Make Profits on Double Grids
Whenever one grid is generating profit on being in the direction of the prevailing trend, the other grid makes losses and vice versa. In order to make profits in this kind of system, it is important to manage each of the grids separately.
Each side of the grid, in this case, should come with its own profit and stop loss. The two types of forex orders are of great importance in this strategy as they ensure profits are locked in when necessary. Likewise, they ensure losses are kept at a bare minimum as a way of protecting capital.
In addition to using profit and stop-loss orders, a trader or an FX expert advisor in automated forex trading can leverage a swing strategy. In this case, trades on the two grids are managed individually, especially in highly volatile markets. Profits targets are also set on each trade pair, to lock in profits.
Dual Grid Strategy Risk Control
Trade management is one of the most important forex trading secrets, and a money-making hack with the dual grid strategy. In this case, the two grids should be treated as two separate systems as both come with defined profit and sell boundaries.
Conclusion
Forex dual grid strategy is an ideal trading strategy for people who don't want to forecast which way the market is likely to move. Unlike scalping trend trading or news trading, the strategy works well in volatile and directionless markets. Likewise, the strategy is pretty simple to automate using various forex trading instruments, such as forex expert advisors.