One of the hardest questions new traders ask themselves is what is the trend? An uptrend is simply a series of higher highs and higher lows as indicated on the chart below. A downtrend is a series of lower lows and lower highs.
Determining the trend depends on the timeframe you'll be using to trade the market. The hourly chart may show an uptrend in a particular currency pair while the 4 hours may show a downtrend at the same time.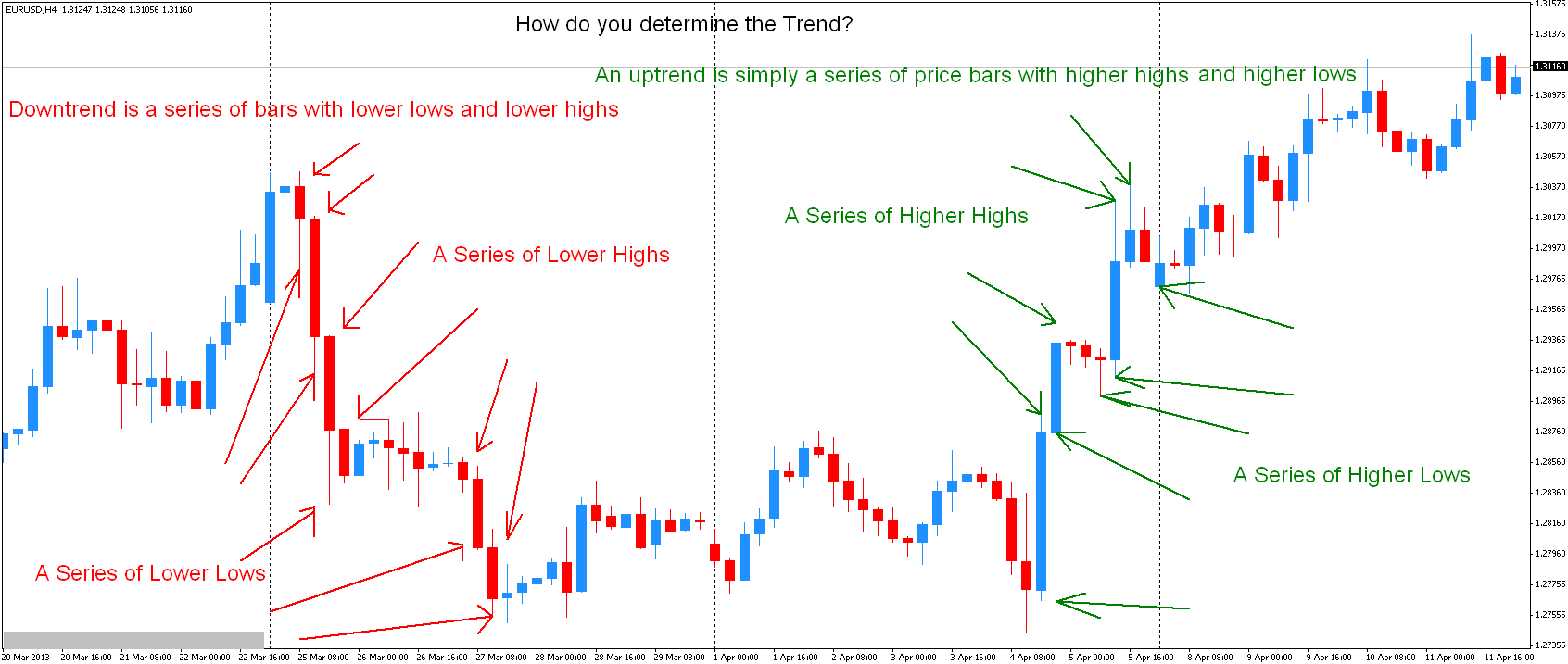 The easiest way to visualize the trend is to use a moving average. The chart below shows a 20 Simple Moving Average.applied to our previous chart.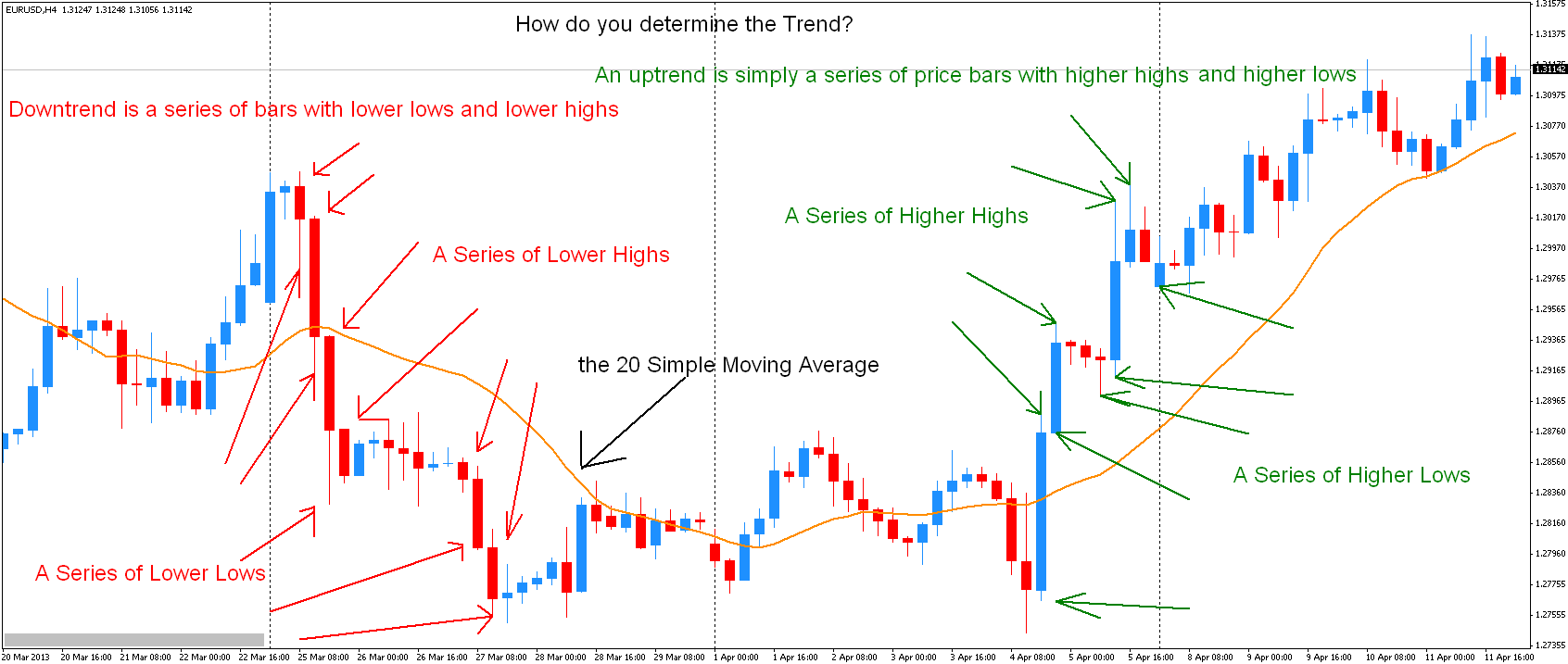 We can see that the moving average follows price nicely. On the left side as the EUR/USD currency pair was trending down the 20 SMA showed a downward sloping direction too. Consequently, on the right side when the pair was making new highs the moving average was sloping upward indicating an uptrend.
Pick a Moving Average that's right for you
Are you a day trader or a swing trader? The moving average that you use should fit both your trading style and your trading methodology.
Let's demonstrate this with an example. Let's look at the 200 Simple Moving Average applied to our chart. We can see that this moving average shows a downtrend for the entire period so this indicator may not be as suitable to trade the 4-hour charts.
However, if you're a swing trader, alternatively you can use the 200 simple moving average on the 4-hour chart. In this case, you don't need to follow price as closely as a day trader so you would want a moving average that shows the overall bias and larger price trend of the market.
Day Trading with the 20 Simple Moving Average

The video shows one way to use the 20 simple moving average for day trading on the lower timeframe charts. The example below shows my adaptation with a recent example of price action on the EUR/USD 15 Minute chart.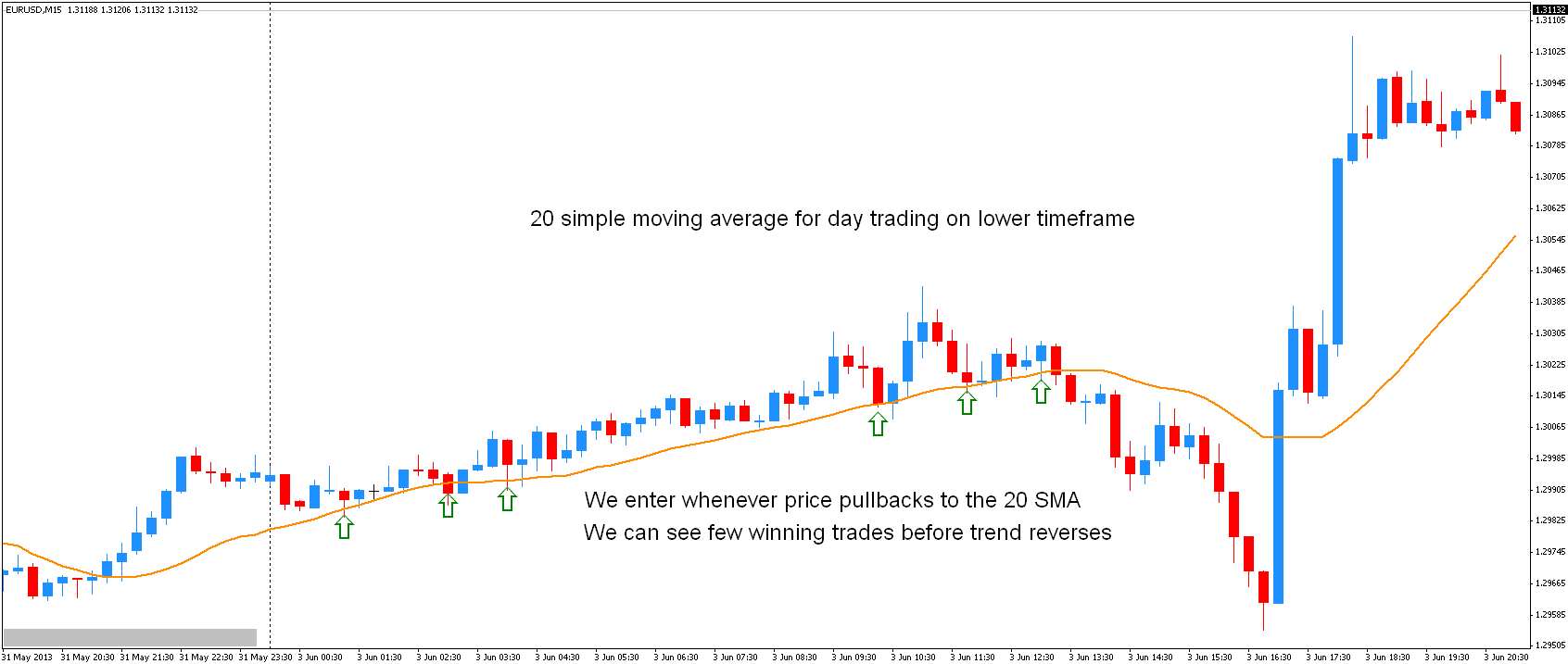 We could enter whenever price pullbacks to the moving average and try to exit with a small profit. We can see that we could potentially get few winning trades before the uptrend finally reverses to the downside and we suffer out first loss. But the key thing here will be the exit and this part is very subjective.
The video doesn't go over the most important part of a trading strategy., the exit. In conclusion, while t the strategy it outlines is useful, it's not something that can be implemented without a considerable amount of trading experience.