Price channel indicator is a volatility indicator which is similar to Bollinger bands. This indicator appears as two lines set above and below the price of a currency pair or other trading instruments.
The upper line/upper band is fundamentally the high point or price of n-number of periods.
Inversely, the lower line/lower band is the low point or price of n-number of periods.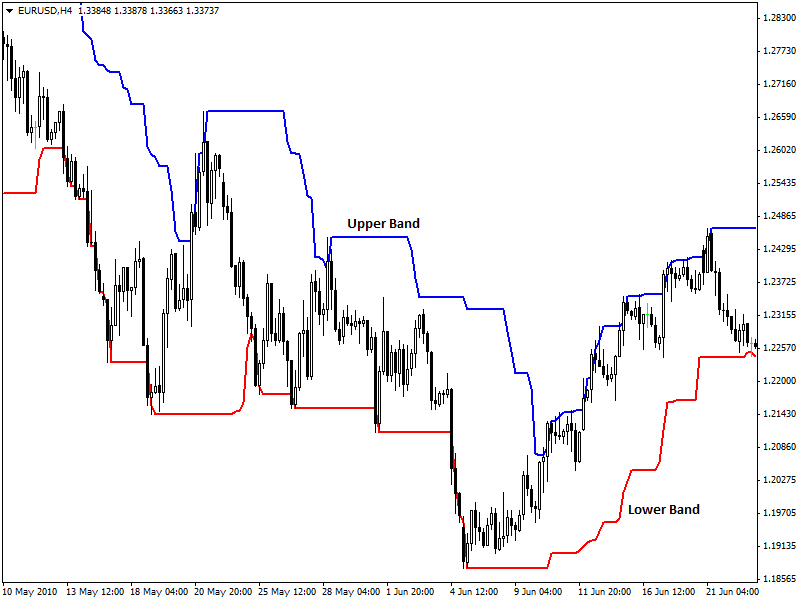 4-hour chart of EUR/USD is showing a price channel with its upper band and lower band.
Calculation:
The default period for this indicator is 20. Calculation of this indicator has given below,
Upper Line/Upper Band = 20 days highest price
Lower line/Lower Band = 20 days lowest price
Interpretation:
Price channel indicator can serve various purposes. This indicator can detect both trend reversal and continuation. Trend reversal identified as soon as price breaks or thrusts the upper band and lower band. In bullish reversals, price/candlestick thrusts the upper band after a prolonged downtrend.
Inversely, price thrusts the lower band in case of the bearish trend reversal. In bullish reversals,  traders take long positions. Traders take short positions as soon as they find bearish reversals.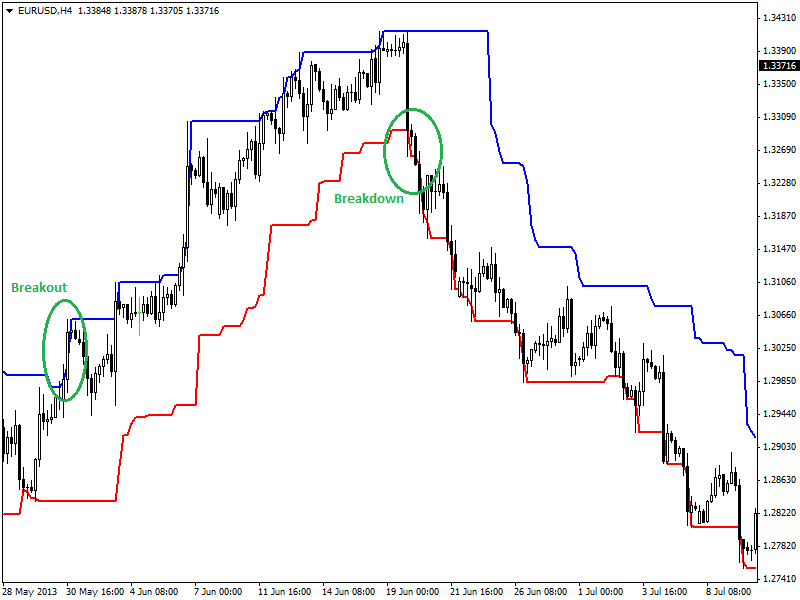 4-hour chart of EUR/USD is showing breakout and breakdown. Breakout is the first confirmation of a bullish trend reversal and occurs as soon as a bullish candlestick thrust the upper band of the price channel. The breakdown is the first confirmation of downtrend which occurs as soon as a bearish candlestick thrusts the lower band.
Sometimes price or candlesticks hit or thrust the upper or lower bands and immediately reverse to its previous trend direction. This scenario is called pullback which indicates possible trend continuation. The pullback in an uptrend indicates that the price will bounce back to upward direction again.
The pullback in a downtrend indicates bearish trend continuation. Here is an example showing pullbacks in a 4-hour chart of EUR/USD (given below).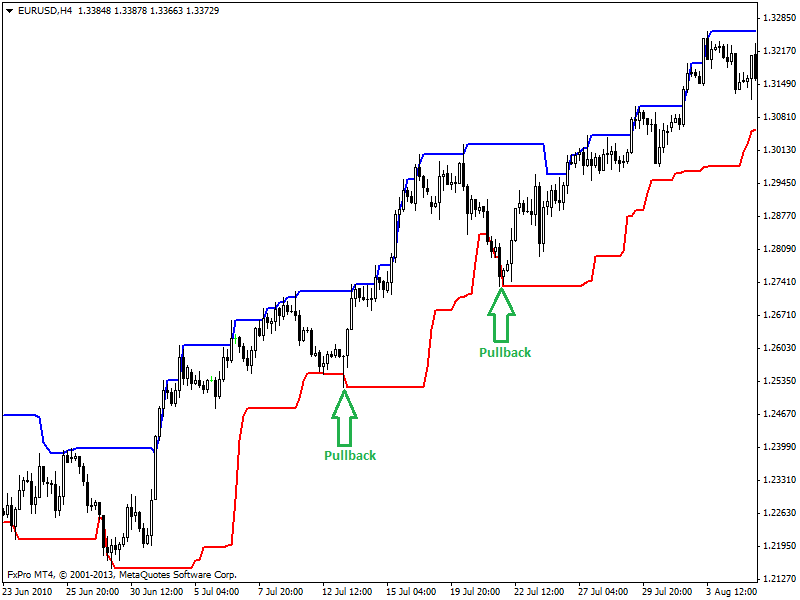 Other indicators such as MACD, Stochastic indicator can be useful to generate buy and sell signals during pullbacks.
Summary:
Price channel is effective and popular for trend following trading strategies. Price channel can detect breakouts and breakdowns easily. Candlestick should be bullish during breakout and candlestick should be bearish during the breakdown.
Bullish breakout with a weak candlestick and bearish breakout with a strong or bearish candle should be avoided as these are mostly fake-outs or failed breakouts. Traders should avoid fake-outs to achieve better trading performance.