At a PMI of 62.4, the UK service sector showed a quicker rise to post-pandemic recovery as compared to manufacturing at 61.1.
UK employment rate may slow down in June 2021 after hitting 75.1% in April 2021.
House building in May 2021 led to a surge in construction activities across the UK, followed by commercial labor.
The GBPUSD grew +0.37% as of 02:12 am GMT on July 5, 2021, from the previous day's close. It opened trading at 1.3842 and moved to a high of 1.3897. UK Services PMI rose to 62.4 in June 2021, beating estimates at 61.7. The index was still in the expansionary zone despite declining 0.79% from the previous record of 62.9.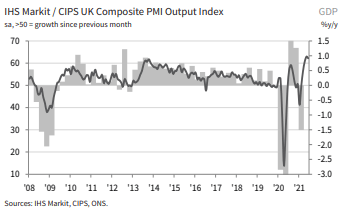 UK Composite Output PMI
Composite output PMI for June 2021 (MoM) also surged to 62.2, beating the flash figure of 61.7 by 0.81%. However, it fell 1.11% from the index recorded in May 2021 at 62.9. At an index of 62.4, the service sector showed a quicker rise to post-pandemic recovery as compared to manufacturing at 61.1.
UK's manufacturing and services received a boost from a rise in new orders as business growth deepened from May to June 2021.
UK employment rate
While there is a strong recovery in the service sector due to pent-up demand, there still exists a staff shortage due to a slow employment rate. June 2021 saw the service economy (including the financial sector) experience challenges in filling employment vacancies. Other segments facing these difficulties in the UK include hospitality and tourism. Prime Minister Boris Johnson is set to remove all Covid-19 restrictions later in July 2021, such as the mask mandate, social distancing, and work-from-home, a move that will boost the service industry. 
As of April 2021, the UK's employment rate stood at 75.1%. It was 1.4% lower than the rate achieved in 2020 (YoY). The weekly hours worked (in the UK in total) stood at 959.9 million- as of April 2021, less 92.3 million hours worked as of April 2020 (at 1,052.2 million hours). This decrease in the employment rate was carried down through June 2021. 
The UK is also expected to release the construction PMI on July 6, 2021. It stood at 64.2 in May 2021, beating estimates at 62.3.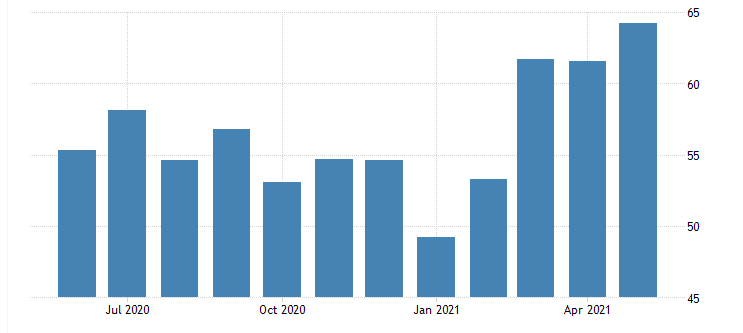 UK Construction PMI 
May 2021 saw house building lead in construction activities across the UK, followed by commercial work. The latter grew at the highest rate since 2007. There was also a sharp rise in civil engineering that contributed to job growth. 
Optimism in US employment
The improved employment rate in the US from 5.8 in May 2021 to 5.9 in June 2021 worked well for the dollar. Also, payroll employment improved by 50.94%, from 583,000 in May 2021 to 850,000 in June 2021.
US producer price index
Although the producer price index (PPI) in the US rose in May 2021 (MoM) to 0.8 from 0.6 in April 2021, it had fallen from a high of 1.0 in March 2021. The import price index (IPI) also rose 37.5% from 0.8 in April 2021 to 1.1 in May 2021. Increased import price and falling Consumer Price Index (CPI) at 0.6 in May 2021 (against 0.8 in April 2021) proved difficult to push the US dollar into July 2021.
Technical analysis
The GBPUSD pair is on course to form a pullback after hitting resistance-turned-support at 1.3725. The price movement may hit the critical level of 1.4007 after crossing 1.3864.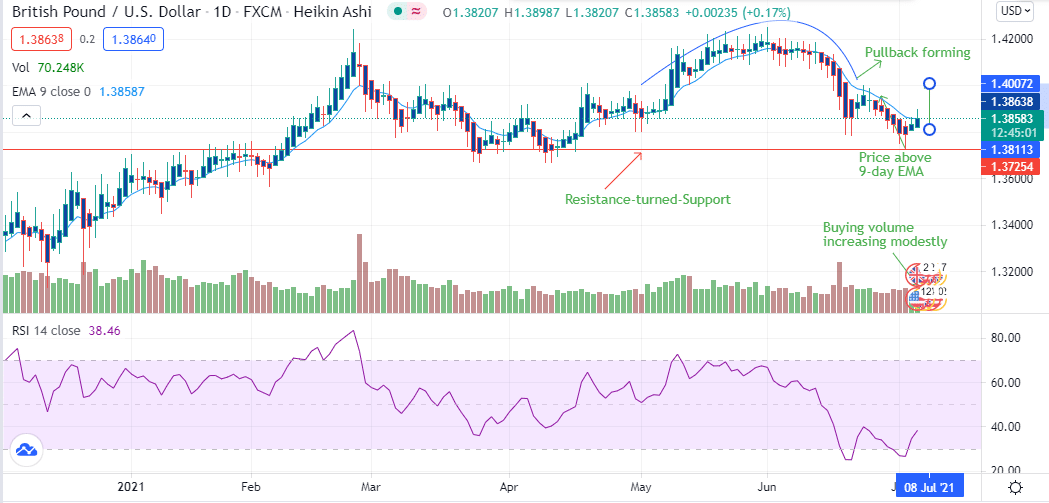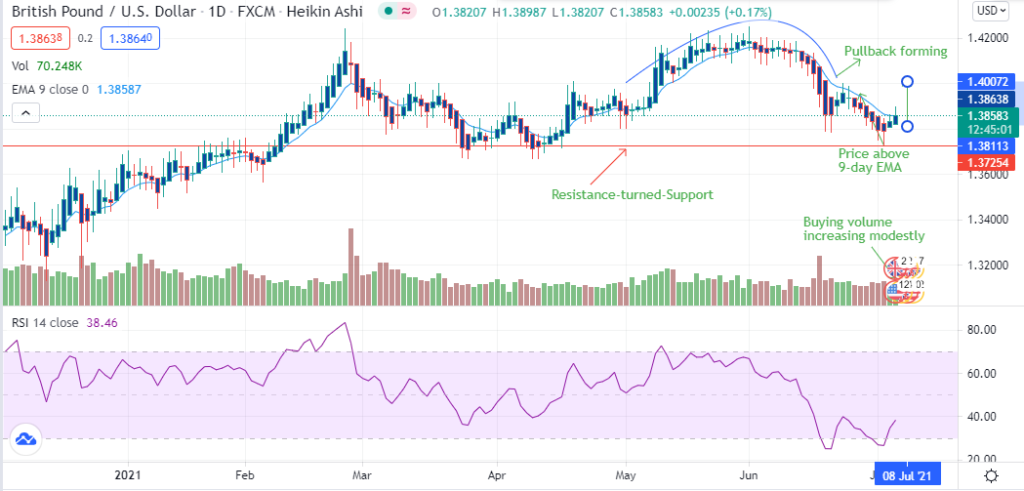 The pair stood above the 9-day EMA at 1.3859, with the volume rising modestly. There was a slight increase in buying activity past the oversold regions with the 14-day RSI at 38.46. The market is likely to return to 1.3811 if the pullback doesn't develop into the breakout above 1.4007.